Cowboy guises M ost weeks in your magazine, there is some
5th September 1996
Page 32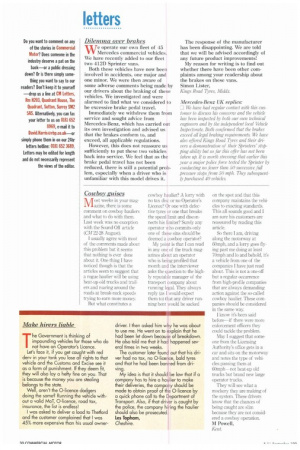 Page 32, 5th September 1996 —
Cowboy guises M ost weeks in your magazine, there is some
Close
comment on cowboy hauliers and what to do with them. Last week was no exception with the Sound Off article (CM 22-28 August).
I usually agree with most of the comments made about this problem but it seems that nothing is ever done about it. One thing I have noticed though is that the articles seem to suggest that a rogue haulier will be using beat-up old trucks and trailers and roaring around the roads at break-neck speeds trying to earn more money.
Rut what constitutes a cowboy haulier? A lorry with no tax disc or no Operator's Licence? Or one with defective tyres or one that breaks the speed limit and disconnects his limiter? Surely any operator who commits only one of these sins should be deemed a cowboy operator?
My point is that I can read in any one of the truck magazines about an operator who is being profiled that month and the interviewer asks the question to the highly reputable manager of the transport company about running legaL They always reply (as I would expect them to) that any driver running bent would be sacked
on the spot and that this company maintains the vehicles to exacting standards. This all sounds good and I am sure his customers are reassured by reading this article.
So there I am, driving along the motorway at t3Omph, and a lorry goes flying past me doing at least 70mph and lo and behold, it's a vehicle from one of the companies I have just read about. This is not a one-off but a regular occurrence from high-profile companies that are always demanding action against the so-called cowboy haulier. These companies should be considered in the same way
I know it's been said before—if there were more enforcement officers they could tackle the problem.
May I suggest that someone from the Licensing Authority's office gets in a car and sits on the motorway and notes the type of vehicles passing them at 60mph—not beat-up old trucks but brand new large operator trucks.
They will see what a mockery they are making of the. system. These drivers know that the chances of being caught are slim because they are not considered a cowboy operation. M Powell, Kent.