Barracuda blazes trail to Pakistan
5th September 1996
Page 28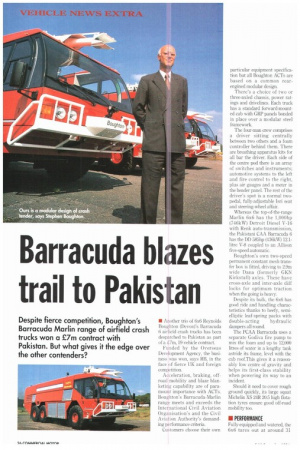 Page 29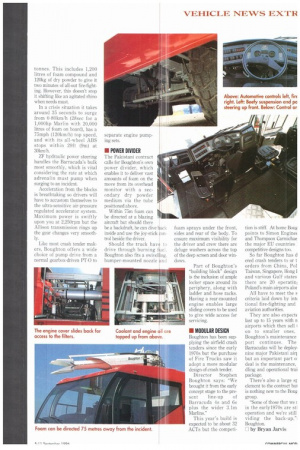 Page 28, 5th September 1996 —
Barracuda blazes trail to Pakistan
Close
• Another trio of 6x6 Reynolds Boughton (Devonl's Barracuda 6 airfield crash trucks has been despatched to Pakistan as part of a ,E7m, 19-vehicle contract.
Funded by the Overseas Development Agency, the business was won, says RB, in the face of fierce UK and foreign competition.
Acceleration, braking, offroad mobility and blaze blanketing capability are of paramount importance with ACTs. Boughton's Barracuda-Marlin range meets and exceeds the International Civil Aviation Organisation's and the Civil Aviation Authority's demanding performance criteria.
Customers choose their own particular equipment specification but all Boughton ACTs are based on a common rearengined modular design.
There's a choice of two or three-axled chassis, power ratings and drivelines. Each truck has a standard forward-mounted cab with GRP panels bonded in place over a modular steel framework.
The four-man crew comprises a driver sitting centrally between two others and a foam controller behind them. There are breathing apparatus kits for all bar the driver. Each side of the centre pod there is an array of switches and instruments; automotive systems to the left and fire control to the right, plus air gauges and a meter in the header panel. The rest of the driver's spot is a normal twopedal, fully-adjustable Isri seat and steering-wheel affair.
Whereas the top-of-the-range Marlin 6x6 has the 1,000hp (746kW) Detroit Diesel V-16 with Renk auto-transmission, the Pakistani CAA Barracuda 6 has the DD 585hp (436kW) 12dlitre V-8 coupled to an Allison five-speed automatic.
Boughton's own two-speed permanent constant mesh transfer box is fitted, driving to 2.9m wide Dana (formerly GKN Kirkstall) axles. These have cross-axle and inter-axle diff locks for optimum traction when the going is heavy.
Despite its bulk, the 6x6 has good ride and handling characteristics thanks to beefy, semielliptic leaf-spring packs with
double-acting hydraulic dampers all round.
The PCAA Barracuda uses a separate Godiva fire pump to mix the foam and up to 12,000 litres of water in a lengthy tank astride its frame, level with the cab roof.This gives it a reasonably low centre of gravity and helps its first-class stability when powering its way to an incident.
Should it need to cover rough ground quickly, its large squat Michelin XS 24R 20.5 high flotation tyres ensure good off-road mobility too. tonnes. This includes 1,200 litres of foam compound and 120kg of dry powder to give it two minutes of all-out fire-fighting. However, this doesn't stop it shifting like an agitated rhino when needs must.
In a crisis situation it takes around 35 seconds to surge from 0-80km/h (28sec for a 1,000hp Marlin with 20,000 litres of foam on board), has a 75mph (120km/h) top speed, and with its all-wheel ABS stops within 29ft (9m) at 30km/h.
ZF hydraulic power steering handles the Barracuda's bulk most smoothly, which is vital considering the rate at which adrenalin must pump when surging to an incident.
Acceleration from the blocks is breathtaking so drivers will have to accustom themselves to the ultra-sensitive air-pressure regulated accelerator system. Maximum power is swiftly upon you at 2,250rpm but the Allison transmission rings up the gear changes very smoothly.
Like most crash tender makers, Boughton offers a wide choice of pump drive from a normal gearbox-driven PT-0 to
• POWER DIVIDER
The Pakistani contract calls for Boughton's own power divider, which enables it to deliver vast amounts of foam on the move from its overhead monitor with a secondary dry powder medium via the tube positioned above.
Within 75m foam can be directed at a blazing aircraft but should there be a backdraft, he can dive hack inside and use the joy-stick control beside the driver.
Should the truck have tc, drive through burning fuei, Boughton also fits a swivelling, bumper-mounted nozzle and foam sprays under the front, sides and rear of the body. To ensure maximum visibility for the driver and crew there are deluge washers across the top of the deep screen and door windows.
Part of Boughton's "building block" design is the inclusion of ample locker space around its periphery, along with ladder and hose racks. Having a rear-mounted engine enables large sliding covers to be used to give wide access for servicing
• MODULAR DESIGN
Boughton has been supplying the airfield crash tenders since the early 1970s but the purchase of Fire Trucks saw it adopt a more modular design of crash tender.
Director Stephen Boughton says: "We brought it from the early concept stage to the pre sent line-up of Barracuda 4s and Gs plus the wider 3.1m Marlins."
This year's build is expected to be about 32 ACTs but the competi
tion is stiff. At home Boug points to Simon Enginet and Thompson Cannichae the major EU countries competitive designs too.
So far Boughton has d ered crash tenders to or t orders from China, Pol Taiwan, Singapore, Hong I and various Gulf states there are 20 operatin; Poland's main airports alor Al] have to meet the s criteria laid down by ityh tional fire-fighting and aviation authorities.
They are also expectt last up to 15 years with n airports which then sell 1 on to smaller ones, Boughton's maintenance port continues. The Barracudas will be deploy nine major Pakistani air] but an important part o. deal is the maintenance, dling and operational trai package.
There's also a large sr element to the contract but is nothing new to the Boup group.
"Some of those that we I in the early1970s are sti operation and we're still viding the back-up,"! Boughton.
fl by Bryan Jarvis