Death crash driver loses licence plea
5th September 1996
Page 26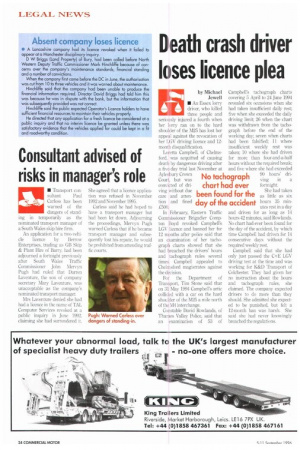 Page 26, 5th September 1996 —
Death crash driver loses licence plea
Close
by Michael Jewell
6 A
• An Essex lorry driver, who killed three people and seriously injured a fourth when her lorry ran on to the hard shoulder of the M25 has lost her appeal against the revocation of her LGV driving licence and 12month disqualification.
Lore= Campbell, of Chelmsford, was acquitted of causing death by dangerous driving after a five-day trial last November at Aylesbury Crown Court, but was convicted of driving without due care and attention and fined £500.
In February. Eastern Traffic Commissioner Brigadier Compton Boyd revoked Campbells WV licence and banned her for 12 months after police said that an examination of her tachograph charts showed that she had breached the drivers' hours and tachograph rules several times, Campbell appealed to Chelmsford magistrates against the decision.
For the Department of Transport, Tim Stone said that on 31 May 1994 Campbell's artic collided with a car on the hard shoulder of the M25 a mile north of the M4 interchange.
Constable David Rowlands, of Thames Valley Police, said that an examination of 53 of Campbell's tachograph charts covering 5 April to 24 June 1994 revealed six occasions when she had taken insufficient daily rest; five when she exceeded the daily driving limit; 26 when the chart was withdrawn from the tachograph before the end of the working day; seven when charts had been falsified; 11 where insufficient weekly rest was taken; 10 where she had driven for more than four-and-a-half hours without the required break; and five where she had exceeded 90 hours' driving in a fortnight.
She had taken as little as six hours 35 minutes rest in a day and driven for as long as 14 hours 42 minutes, said Rowlands. No chart had ever been found for the day of the accident, by which time Campbell had driven for 14 consecutive days without the required weekly rest.
Campbell said that she had only just passed the C+E LEV driving test at the time and was working for li&D Transport of Colchester. They had given her no instruction about the hours and tachograph rules, she claimed. The company expected drivers to do more than they should. She admitted she expected to be punished, but felt a 12-month ban was harsh. She said she had never knowingly breached the regulations.