Time lapse fails to stop trial on tad() charges
5th September 1996
Page 24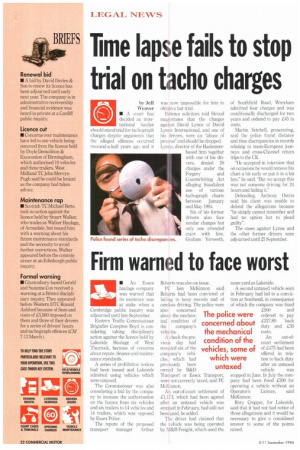 Page 24, 5th September 1996 —
Time lapse fails to stop trial on tad() charges
Close
by Jeff Weaver
• A court has decided an international haulier should stand trial for tachograph charges despite arguments that the alleged offences occurred two-and-a-half years ago and it
was now impossible for him to obtain a fair trial.
Defence solicitors told Stroud magistrates that the charges against David Lynne of David Lynne International, and one of his drivers, were an "abuse of process" and should be dropped. Lynne, director of the Haslemerebased firm together with one of his drivers, denied 26 charges under the Forgery and umnterfeiting Act alleging fraudulent use of various tachograph charts between January and May 1994.
Six of his former drivers also face similar charges but only one attended court with him. Graham Yorwerth, of Southfield Road, Wrexham admitted four charges and was conditionally discharged for two years and ordered to pay .L45 in costs.
Martin Setchell, prosecuting, said the police found distance and time discrepancies in records relating to trans-European journeys and cross-Channel return trips to the LK.
"He accepted in interview that on occasions he would remove his chart a bit early or put it in a bit late," he said. "But we accept this was not someone driving for 24 hours and hiding it."
Defending, Anthony Ostrin said his client was unable to defend the allegations because "he simply cannot remember and had no option but to plead guilty".
The cases against Lynne and the other former drivers were adjourned until 25 September.