Firm warned to face worst
5th September 1996
Page 24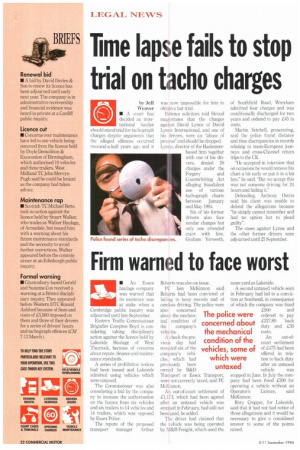 Page 24, 5th September 1996 —
Firm warned to face worst
Close
• An Essex haulage company was warned that its existence was at stake when a Cambridge public inquiry was adjourned until late September.
Eastern Traffic Commissioner Brigadier Compton Boyd is considering taking disciplinary action against the licence held by Lakeside Haulage of West Thurrock, because of concerns about repute, finance and maintenance standards.
A series of prohibition notices had been issued and Lakeside admitted using vehicles which were untaxed.
The Commissioner was also considering a bid by the company to increase the authorisation on the licence from six vehicles and six trailers to 14 vehicles and 14 trailers, which was opposed by Essex Police.
The repute of the proposed transport manager Arthur Roberts was also an issue.
PC lain McKinnon said Roberts had been convicted of failing to keep records and of careless driving. The police were also concerned about the mechan ical of the company's vehicles.
A check the previous day had revealed six of the company's vehicles, which had previously been owned by R&D Transport or Essex Transport, were not currently taxed, said PC McKinnon.
An out-of-court settlement of 4.:1,173, which had been agreed after an untaxed vehicle was stopped in February, had still not been paid, he added.
The driver had claimed that the vehicle was being operated by M&B Freight, which used the
same yard as Lakeside.
A second untaxed vehicle seen in February had led to a conviction at Southend, in consequence of which the company was fined and ordered to pay 4227.80 back duty and £30 costs.
An out-ofcourt settlement of £475 had been offered in relation to back duty after an untaxed
vehicle was stopped in June. In July the company had been fined 000 for operating a vehicle without an Operator's Licence, said McKinnon.
Rory Cropper, for Lakeside, said that it had not had notice of those allegations and it would be necessary to give a considered answer to some of the points raised.