Fuller's Earth Transport by " Max "
5th September 1947
Page 43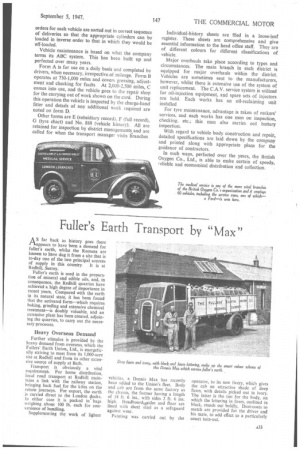 Page 43, 5th September 1947 —
Fuller's Earth Transport by " Max "
Close
M
As far back as history goes there appears to !save been a demand for fuller's earth, whilst the Romans are known to have dug it from a site that is to-day one of the two principal sources
of supply in this country. It is at Redhill, Surrey.
Fuller's earth is used in the preparation of mineral and edible oils, and, in consequence, the Redhill quarries have achieved a high degree of importance in recent years. Compared with the earth in its natural state, it has been found that the activated form—which requires baking, grinding and extensive chemical treatment—is doubly valuable, and an extensive plant has been created, adjoining the quarries, to carry out the necessary processes.
Heavy Overseas Demand Further stimulus is provided by the heavy demand from overseas, which the Fullers' Earth Union, Ltd., is energetically striving to meet from its 1,000-acre site at Redhill and from its other extensive source of supply at Bath.
Transport is obviously a vital requiremena. For home distribution, local road transport at Redhill maintains a link with the railway station, bringing back fuel for the kilns on the return journeys. For export, -the earth is carried direct to the London docks. In either case it is packed in bags weighing about 100 lb, each for convenience of handling.
Supplementing the work of lighter
vehicles, a Dennis Max has recently been added to the Union's fleet. Body and cab are from the same factory as the chassis, the former having a length of 18 ft. 6 ins., with sides 2 ft. 6 ins. high. Ileadboardwides and floor are lined with sheet steel as a safeguard against wear.
Painting was carried out by the
operator, to its new livery, which gives the cab an attractive shade of deep fawn, with details picked out in ivory. The latter is the tint for the body, on which the lettering in fawn, outlined in black, stands out boldly, Dust-coats to match are provided for the driver and his mate, to add effect to a particularly smart turn-out,