More Road Courtesy Needed
5th September 1947
Page 24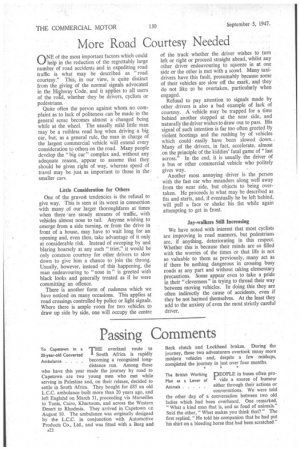 Page 24, 5th September 1947 —
More Road Courtesy Needed
Close
ONE of the most important factors which could help in the reduction of the regrettably large number of road accidents and in expediting road traffic is what may be described as "road courtesy." This, in our view, is quite distinct from the giving of the normal signals advocated in the Highway Code, and it applies to all users of the road, whether they be drivers, cyclists or pedestrians.
Quite often the person against whom no complaint as to lack of politeness can be made in the general sense becomes almost a changed being while at the wheel. The usually mild little man may be a ruthless road hog when driving a big car, but, as a general rule, the man in charge of the largest commercial vehicle will extend every consideration to others on the road. Many people develop the "big car" complex and, without any adequate reason, appear to assume that they should be given right of way, whereas speed of travel may be just as important to those in the smaller cars Little Consideration for Others One of the gravest tendencies is the refusal to give way. This is seen at its worst in connection with many of our larger thoroughfares at times when there are steady streams of traffic, with vehicles almost nose to tail. Anyone wishing to emerge from a side turning, or from the drive in front of a house, may have to wait long for an opening and, even then, take advantage of it only at considerable risk. Instead of sweeping by and blaring hoarsely at any such "trier," it would be only common courtesy for other drivers to slow down to give him a chance to join the throng. Usually, however, instead of this happening, the man endeavouring to "nose in" is greeted with black looks and generally treated as if he were committing an offence.
There is another form of rudeness which we have noticed on many occasions. This applies at road crossings controlled by police or light signals. Where there is ample room for two vehicles to draw up side by side, one will occupy the centre of the track whether the driver wishes to turn left or right or proceed straight ahead, whilst any other driver endeavouring to squeeze in at one side or the other is met with a scowl. Many taxidrivers have this fault, presumably because some of their vehicles are slow off the mark, and they do not like to be overtaken, particularly when engaged. Refusal to pay attention to signals made by other drivers is also a bad example of lack of courtesy. A vehicle may be trapped for a time behind another stopped at the near side, and naturally the driver wishes to draw out to pass. His signal of such intention is far too often greeted Uy violent hootings and the rushing by of vehicles which could easily have been slowed down. Many of the drivers, in fact, accelerate, almost on the principle of the kiddies' fatal game of "last across." In the end, it is usually the driver of a bus or other commercial vehicle who politely gives way.
Another most annoying driver is the person with the fast car who meanders along well away from the near side, but objects to being overtaken. He proceeds in what may be described as fits and starts, and, if eventually he be left behind, will pull a face or shake his fist while again attempting to get in front.
Jay-walkers Still Increasing We have noted with interest that most cyclists are improving in road manners, but pedestrians are, if anything, deteriorating in this respect. Whether this is because their minds are so filled with the worries of the times or that life is not so valuable to them as previously, many act as if there be nothing dangerous in crossing busy roads at any part and without taking elementary precautions. Some appear even to take a pride in their "cleverness" in trying to thread their way between moving vehicles. In doing this they are often indirectly the cause of accidents, even if they be not harmed themselves. At the least they add to the anxiety of even the most strictly careful driver.