ACROSS AUSTRALIA BY BRITISH LORRY.
5th October 1926
Page 63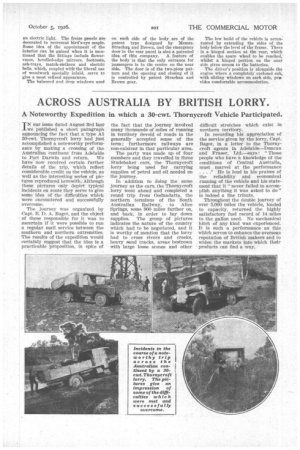 Page 63, 5th October 1926 —
ACROSS AUSTRALIA BY BRITISH LORRY.
Close
A Noteworthy Expedition in which a 30-cwt. Thornycroft Vehicle Participated.
TN our issue dated August 3rd last ..Lwe published a short paragraph announcing the fact that a type Al 30-cwt. Thornycroft lorry had just accomplished a noteworthy performance by making a crossing of the Australian continent from Adelaide to Port Darwin and return. We have now received certain further details of the trip, which reflect considerable credit on the vehicle, as well as the interesting series of pictures reproduced herewith. Although these, pictures only depict typical Incidents en route they serve to give some idea of the difficulties which were encountered and successfully overcome.
The journey was organized by Capt. E. D. A. Bagot, and the object of those responsible for it was to ascertain if it were possible to run a regular mail service between the southern and northern extremities. The results of the expedition would certainly suggest that• the idea is a practicable proposition, in spite of the fact that the journey involved many thousands of miles of running in territory devoid of roads in the generally accepted sense of the term; furthermore railways are non-existent in that particular area.
The party was made up of four members and they travelled in three Studebaker cars, the Thornycroft lorry being used for carrying supplies of petrol and oil needed on the journey.
In addition to doing the same journey as the cars, the Thornycroft _lorry went ahead and completed a round trip from Ootinadatta, the northern terminus of the -South Australian Railway, to Alice Springs, some 900 miles farther on, and back, in order to lay down supplies. The group of pictures indicates the nature of the country which had to be negotiated, and it is worthy of mention that the lorry had to cross rivers and creeks, heavy sand tracks, areas bestrewn with large loose stones and other
difficult stretches which exist In northern territory.
In recording his appreciation of the service given by the lorry, Capt. Begot, in a letter to the Thornycroft agents in Adelaide—Duncan and Fraser, Ltd.—says: "Those people who have a knowledge of the conditions of Central Australia, must marvel at the performance
." He is loud in his praises of the reliability and economical running of the vehicle and his statement that it "never failed to accomplish anything it was asked to do" is indeed a fine tribute.
Throughout the double journey of over 5,000 miles the vehicle, loaded to capacity, returned the highly satisfactory fuel record of 14 miles to the gallon used. No mechanical hitch of any kind was experienced. It is such a performance as this which serves to enhance the overseas reputation of British makers and to widen the markets into which their products can find a way.