STREET FIRST-AID BOXES.
5th October 1926
Page 60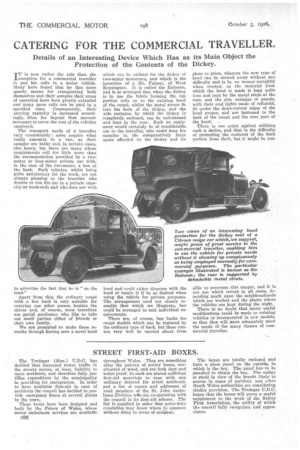 Page 60, 5th October 1926 —
STREET FIRST-AID BOXES.
Close
The Tredegar (Mon.) U.D.C. has decided that increased motor traffic in the streets means, at least, liability to more accidents, and therefore fully justifies expenditure by the municipality in providing for emergencies. In order to have available first-aid in case of accidents the council has decided to provide emergency boxes at several places in the town.
These boxes have been designed and built by the Priory of Wales, whose motor ambulance services are available throughout Wales. They are something after the pattern of sentry boxes, constructed of wood, and are both dust and water proof. In each are placed sufficient first-aid materials to cope with any ordinary demand for street accidents, and a. list of names and addresses of local members of the St. John Ambulance Division wife are co-operating with the council in its first aidscheme. The list is supplied in order that point-duty constables may know whom to summon without delay in event of accident.
The boxes are totally enclosed and have a glass panel on the outside, in which is the key. The panel has to be smashed to obtain the key. The outlay is small in view of the benefit likely to accrue in cases of accident, and other South Wales authorities are considering similar provision. The Tredegar U.D.C. hopes that the boxes will prove a useful supplement to the work of the Safety First Association, the utility of which the council fully recognizes and appreciates.