BUS TRANSPORT IN AN IMPORTANT PORT.
5th October 1926
Page 58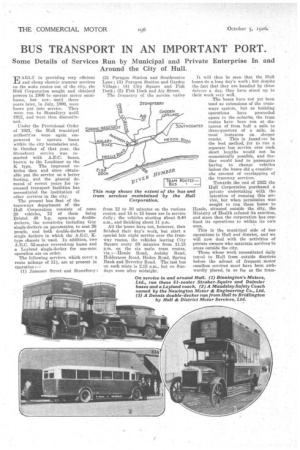 Page 59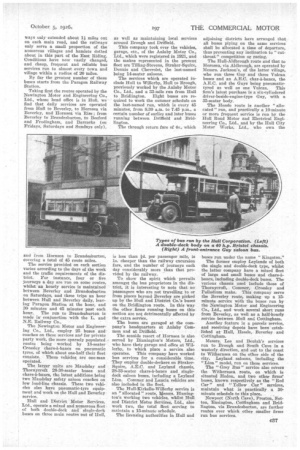 Page 58, 5th October 1926 —
BUS TRANSPORT IN AN IMPORTANT PORT.
Close
Some Details of Services Run by Municipal and Private Enterprise In and Around the City of Hull.
ARLY in providing very efficient and cheap electric tramcar services on the marin routes out of the city, the Hull Corporation sought and obtained powers in 1906 to operate motor omnibuses, but not– until three years later, in July, 1909, were buses put into service. They were run to Stoneferry until 1912, and were then discontinued.
Under the Provisional Order of 1921, the Hull municipal authorities were again empowered to operate buses within the city boundaries and, in October of that year, the Stoneferry service was restarted with A.E.C. buses, known to the Londoner as the K type. The improved yehicks then and since obtainable put the service on a better footing, and the general demand of recent years for increased transport facilities has necessitated the institution of other services in the city.
The present bus fleet of the tramways department of the Hull Corporation consists of some 20 vehicles, 12 of them being Bristol 40 h.p. open-top doubledeckers, the remainder including Guy single-deckers on pneumatics, to seat 26 people, and both double-deckers and single deckers in which the A.E.C. Ktype chassis is used. In addition, two A.E.C. 52-seater covered-top buses and a Leylandsingle-decker for one-man operation are on order.
The following services, which cover a route mileage of 11-i, are at present in operation :— (1) Jameson Street and Stoneferry (2) Paragon Station and Southcoates Lane ; (3) Paragon Station and Garden Village ; (4) City Square and Fish Deck ; (5) Fish Dock and Air Street.
The frequency of the service varies
from 12 to 30 minutes on the various route% and 14 to 15 buses are in service daily; the vehicles starting about 6.40 a.m., and finishing about 11 p.m.
All the buses have not, however, then finished their day's work, but start a special late night service over the tramway routes, the vehicles leaving City Square every 30 minutes from 11.15 p.m. on the six main tram routes, viz. :—Hessle Road, Anlaby Road, Holderness Road, Hedon Road, Spring Bank and Beverley Road. The last bus on each route is 2.15 a.m., but on Sundays soon after midnight.
It will thus be seen that the Hull buses do a long day's work ; but despite the fact that they are handled by three drivcrs a day, they have stood up to their work very well.
The buses have not yet been used as extensions of the tramways system, but as building operations have proceeded apace in the suburbs, the tram routes have been run at distances of from half a mile to three-quarters of a mile, in most instances on. sleeper tracks. This is found .to be the best method, for to run a separate bus service over such short lengths would not be economically possible, and further would lead to passengers having to change vehicles finless the buses did a considerabe amount of overlapping of the tramway services.
Towards the end of 1922 the Hull Corporation purchased a private undertaking with the intention of running this service, but when permission was sought to run these buses to Ilessle, situated outside the city, the Ministry of Health refused its sanction, and since then the corporation has confined its operations to within its own area.
This is the municipal side of bus operations in Hull and district, and we will now deal with the • activities of private owners who maintain services to areas outside the city.
Those whose work necessitated daily travel to Hull from. outside districts before the advent of frequent motor omnibus services must have been awkwardly placed, in so far as the tram ways only extended about 1i miles out on each main road, and the railways only serve a small proportion of the numerous villages and hamlets dotted about in this part of the East Riding. Conditions have now vastly changed, and cheap, frequent and reliable bus services run to almost every town and village within a radius of 20 miles.
By far the greatest number of these buses starts from the Paragon Railway Station, Taking first the routes operated by the Newington Motor and Engineering Co., Ltd., whose head office is in Hull, we find that daily services are operated from Roll to Beverley, to Hornsea via Beverley, and Hornsea via Rise ; from Beverley to Brandesburton, to Beeford and Prodingham, and Barracks (on Fridays, Saturdays and Sundays only), and from Hornsea to Brandesburton, covering a total of 45 route miles.
The service provided on each section varies according to the days of the week and the traffic requirements of the district. For instance, four or five journeys a day are run on some routes, whilst an hourly service is maintained between Beverley and Brandesburton on Saturdays, and three trips an hour between Hull and Beverley daily, leavin.. Paragon Station at the hour, and 30' minutes and 45 minutes past each hour. The run to Brandesburton is made in conjunction 'with the L. and N.H. Railway Co., The Newington Motor and Engineering Co" Ltd., employ. 25 buses and coaches on these services and for private party work, the more sparsely populated routes being worked by 18-seater Crossley chars-h-bancs on pneumatic tyres, of which about one-half their fleet consists. These vehicles are one-man operated.
The larger units are Maudslay and Thornycroft 28-30-seater buses and chars-il-banes, the latest additions being two lifaudelay safety saloon coaches on low load-line chassis. These two vehicles also have pneumatic-tyre equipment and work on the Hull and Beverley service.
Hull and District Motor Services, Ltd., operate a mixed and numerous fleet of both double-deck and single-deck buses on three main routes out of Hull, as well as maintaining local services around Brough and Driffield.
This company took over the vehicles, garage, etc., of the Anlaby Motor Co., Ltd., which were registered in 1921, and the makes represented in the present fleet are Tilling-Stevens, Straker-Squire, Dennis and Chevrolet, the last-named being 14-seater saloons.
The services which are operated include Hull to Willerby, Hull to Brough, previously worked by the Anlaby Motor Co., Ltd., and a 33-mile run from Hull to Bridlington. Eight buses are required to work the summer schedule on the last-named run, which he every 45 minutes, from 8.30 a.m. to 7.45 p.m., a certain number of earlier and later buses running between Driffield and Bridlington.
The through return fare of 4s., which is less than id. per passenger mile, is is. cheaper than the railway excursion fare, and the number of journeys each day considerably more than that provided by the railway.
To show the spirit which prevails amongst the bus proprietors in the district, it is interesting to note that no passengers who are not travelling to or from places beyond Beverley are picked up by the Hull and District Co.'s buses on the Bridlington route. In this way the other firms running buses on this section are not detrimentally affected by the extra service.
The buses are garaged at the company's headquarters at Anlaby Common and at Driffield.
The seaside resort of ITornsea is also served by Binnington's Motors, Ltd., who have their garage and office at Willerby, to which place a service also operates. This company have worked bus services for a considerable time. They employ double-deckers on StrakerSquire, A.E.C. and Leyland chassis, 28-33-seater chars-à-banes and singledeck saloon buses, including a Leyland Lion. Commer and Lancia vehicles are also included in the fleet.
The Hull-Kirkella-liVillerby service is an " allocated " route, Ifessrs. Binnington's working two vehicles, whilst Hull and District Motor Services, Ltd., also work two, the total fleet serving to maintain a 15-minute schedule.
The licensing authorities in Hull and adjoiuiug districts have arranged that all buses plying on the same services shall be allocated a time of departure, thus preventing any inclination to " cutthroat " competition or racing.
The Hull-Aldbrough route and that to Hornsea, via Aldbrough, are operated by Messrs. Jackson's, of the latter village, who run three Guy and three Vulcan bases and an A.E.C. char-ii-bancs, the A E C and the Guys being pneumatic tyred as well as one Vulcan. This firm's latest purchase is a six-cylindered driver-beside-engine-type Guy, with a 35-seater body.
The Hessle route is another " allocated " run, and practically a 10-minute or more frequent service is run by the Hull Road Motor end Electrical Engineering Co., Ltd., and by the Hull City Motor Works, Ltd., who own the buses run under the name "Kingston."
The former employ Leylands of both the single and double-deck type, whilst the latter company have a mixed fleet of large and small buses and chars-ibanes, including double-deck buses. The various chassis used include those of Thornycroft, Commas, Crossley and Palla.dium make. This company serve the Beverley route, making up a 15minute service with the buses run by the Newington Motor and Engineering Co., Ltd., and work several short runs from Beverley, as well as a half-hourly service between Eull and Cottingham.
Another feature is a parcels service, and receiving depots have been established at Hull, Hassle, Beverley and Cottingham.
Messrs. Lee and Beulah's services run to Brough and South Cave in a westerly direction, and out to the coast to Withernsea on the other side of the city. Leyland saloons, including the "Lion" model, run on these services.
The "Grey Bus" service also covers the Withernsea route, on which is situated Hedon, and two other firms' buses, known respectively as the "Red Car" and "Yellow Car" services, maintain what is practically a 30
minute schedule to this place. , Newport (North Cave), Preston, Sutton, Easington, Cottingham and Bridlington, via Brandesburton, are further routes over which other smaller firms run bus services.