LAKE DISTRICT COACH AND BUS TRAFFIC.
5th October 1926
Page 57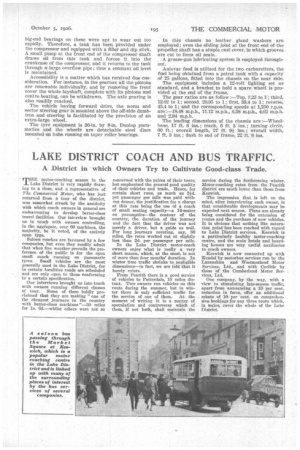 Page 57, 5th October 1926 —
LAKE DISTRICT COACH AND BUS TRAFFIC.
Close
A District in which Owners Try to Cultivate Good-class Trade.
TEW motor-coaching season in the Lake District is very rapidly draw-. ing to a close, and a representative of The Commercial Motor, who has just returned from a tour of the district, was somewhat struck by the assiduity with which coach owners in general are endeavouring to develop better-class travel facilities. Our interview brought us in touch with owners controlling, in the aggregate, over 60 machines, the majority, be it noted, of the entirely open type.
Saloon coaches are favoured by a few companies, but even they readily admit that when fine weather prevails the preference of the public is for the open small coach running on pneumatic tyres. Small vehicles are the most generally used in the Lake District, for in certain localities roads are scheduled and are only open to those conforming to a certain specification.
Our interviews brought us into touch with owners running different classes of tour. Some of them boldly proclaimed that they are making "one of the cheapest journeys in the country with better-class machines "-30 miles for Is. 6d.—whilst others were not so
concerned with the prices of their tours, but emphasized the general good quality of their vehicles and trade. Hence, for certain short runs, as much as na. per passenger per mile was paid without demur, the justification for a charge at this rate being the use of a coach of small seating capacity—a 14-seater on pneumatics—the contour of the country, the duration of the journey and the fact that the driver was not merely a driver, but a guide as well. For long journeys covering, say, 80 miles the rates worked out at slightly less
miles, 2d. per passenger per mile.
In the Lake District motor-coach owners enjoy what is really a very short season, which, at the most, is not of more than four months' duration. In winter time traffic shrinks to negligible dimensions—in fact, we are told that it barely exists.
From Powith there is a good service of vehicles to Patterdale, 15 miles distant. Two owners run vehicles on this route during the summer, but in winter there is only sufficient traffic for the service of one of them. At the moment of writing it is a matter of speculation and controversy which of them, if not both, shall maintain the
service during the forthcoming winter. Motor-coaching rates from the Penrith district are much lower than those from Keswick.
The impression that is left on the mind, after interviewing each owner, is that considerable developments may be expected next season. Plans are already being considered for the extension of routes and the purchase of new vehicles. It is obvious that nothing like saturation point has been reached with regard to Lake District services. Keswick is a particularly healthy motor-coaching centre, and the main hotels and boarding houses are very useful auxiliaries to coach owners.
Keswick is now connected up with Kendal by motorbus services run by the Lancashire and Westmorland Motor Services, Ltd.' and with Carlisle by those of the Cumberland Motor Services, Ltd.
One company, by the way, with a view to stimulating late-season traffic, apart from announcing a 10 per cent. reduction in fares, offer an additional rebate of 10 per cent, on comprehensive bookings for any three tours which, in series, cover the whole of the Lake District.