A New Lincolnshire Bridge.
5th October 1926
Page 46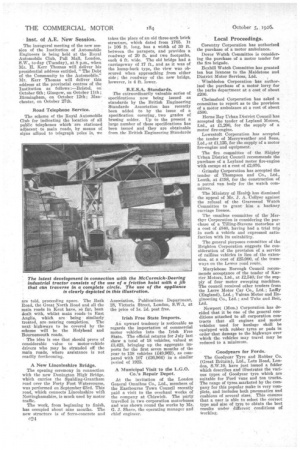 Page 46, 5th October 1926 —
A New Lincolnshire Bridge.
Close
The opening ceremony in connection with the new Donington High Bridge, which carries the Spalding-Grantham road over the Forty Foot Watercourse, was performed on September 23rd. This road, which connects Lincolnshire with Nottinghamshire, is much used by motor traffic.
The work, from beginning to finish, has occupied about nine months. The new structure is of ferro-concrete and
c24
takes the place of an old three-arch brick structure, which dated from 1765. It is 106 ft. long, has a width of 30 ft. between the parapets, and provides a roadway of 20 ft. and two footpaths, each 4 ft. wide. The old bridge had a carriageway of 17 ft., and as it was of the hump-back type, the view was obscured when approaching from either side ; the roadway of the_ new bridge, however, is 4 ft. lower.