British Lorry Deliveries.
5th October 1926
Page 43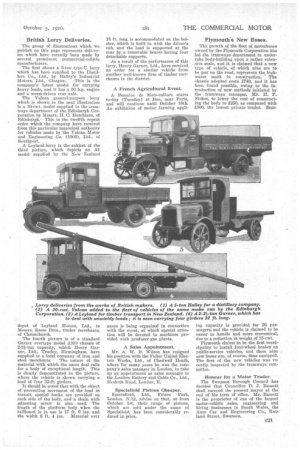 Page 43, 5th October 1926 —
British Lorry Deliveries.
Close
The group of illustrations which we publish on this page represents deliveries which have recently been made by several prominent commercial-vehicle manufacturers.
The first shows a 5-ton type-ti lorry which has been supplied to the Distillers Co., Ltd., by Halley's Industrial Motors, Ltd., Glasgow. This is the company's latest model for carrying heavy loads, and it has a 50 h.p. engine and a worm-driven rear axle.
The Vulcan general-purpose lorry which is shown in the next illustration is a 30-cwt, model supplied to the tramways department of the Edinburgh Corporation by Messrs. H. C. Hutchison, of Edinburgh. This is the twelfth repeat order which the company have received from this particular municipal authority for vehicles made by the Vulcan Motor and Engineering Co. (1906), Ltd., of Southport.
A. Leyland lorry is the subject of the third picture, which depicts an Al model supplied by the New Zealand depot of Leyland Motors, Ltd., to Messrs. Reese Bros., timber merchants, of Christchurch.
The fourth picture is of a standard .Garner overtype model AEC chassis of 2-2i-ton capacity, which Henry Garner, Ltd., Tyseley, Birmingham, have supplied to a local company of iron and
steel merchants. The nature of the material with which the users deal calls for a body of exceptional length. This is clearly demonstrated in the picture, where the vehicle is shown carrying a load of four 32-ft. girders.
It should be noted that with the object of preventing movement of the load in transit, special hooks are provided on each side of the body, and a chain with adjusting screw is also used. The length of the platform body when the tailboard is in use is 17 ft. 6 ins, and the width 6 ft. 4 ins. Material over
18 ft. long is accommodated on the bolster, which is built in with the driver!s cab, and the load is supported at the rear by a removable bearer having four detachable supports.
As a result of the performance of this lorry, Henry Garner, Ltd., have received an order for a similar vehicle from another well-known firm of timber merchants in the district.