ONE HEARS
5th October 1926
Page 41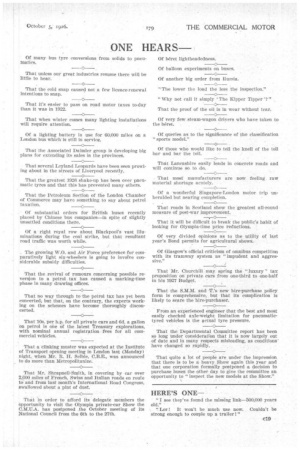 Page 41, 5th October 1926 —
ONE HEARS
Close
Of many bus tyre conversions from solids to pneumatics.
That unless our great industries resume there will be little to hear.
That the cold snap caused not a few licence-renewal intentions to snap.
That it's easier to pass on road motor taxes to-day than it was in 1922.
That when winter comes Many lighting installations will require attention.
Of a lighting battery in use for 00,000 miles on a London bus which is still in service.
That the Associated Daimler group is developing big plans for extending its sales in the provinces.
That several Leyland Leopards have been seen prowling about in the streets of Liverpool recently.
That the greatest 1926 shake-up has been over pneumatic tyres and that this has prevented many others.
That the Petroleum Section of the London Chamber of Commerce may have something to say about petrol taxation. 0 Of substantial orders for British buses recently Placed by Chinese bus companies—in spite of slightly unsettled conditions there.
Of a right royal row about Blackpool's vast illuminations during the coal strike, but that resultant road traffic was worth while.
. The growing W.O. and Air Force preference for comparatively light six-wheelers is going to involve considerable subsidy difficulties.
That the revival of rumours concerning possible reversion to a petrol tax has caused a marking-time phase in many drawing offices: That no way through to the petrol tax has yet been concerted, but that, on the contrary, the experts working on the schemes have become thoroughly disconcerted.
That 10s. per h.p. for all private ears and 6d. a gallon on petrol is one of tile latest Treasury explorations, with nominal annual registration fees for all commercial vehicles.
That a clinking muster was expected at the Institute of Transport opening meeting in London last (Monday) night, when Mr. R. II. Selbie, .C.B.E., was announced to do more than Metropolitanize.
That Mr. Shrapnell-Smith, in covering by car over 2,000 miles of French, Swiss and Italian roads en route to. and .frOm last month's International Road Congress, swallowed about a pint of dust
That in order to afford its delegate members the opportunity to visit the Olympia private-ear Show the C.M.U.A. has postponed the October meeting of its National Council from the 6th to the 27th. Of beret lightheadedness.
Of balloon experiments on buses.
Of another big order from Russia.
The lower the load the less the inspection."
" Why not call it simply ' The Kipper Tipper '?" That the proof of the oil is in wear without tear.
Of very few steam-wagon drivers who have taken to the beret.
Of queries as to the significance of the classification "sports model."
Of those who would like to toll the knell of the toll bar and bar the toll.
That Lancashire easily leads in concrete roads and will continue so to do.
That most manufacturers are now feeling raw material shortage acutely.
Of a wonderful Singapore-London motor trip unheralded but nearing completion.
That roads in Scotland show the greatest all-round measure of post-war improvement.
That it will be difficult to break the public's habit of looking for Olympia-time price reductions.
Of very divided opinions as to the utility of last year's Bond permits for agricultural shows.
Of Glasgow's official criticism of omnibus competition with its tramway system as "impudent and aggressive."
That Mr. Churchill may spring the " luxury " tax proposition on private cars from one-third to one-half in his 1927 Budget.
That the S.M.M. and T.'s new hire-purchase policy form is comprehensive, but that its complication is likely to scare the hirepurchaser.
From an experienced engineer that the best and most easily checked axle-weight limitation for pneumatictyred vehicles is the actual tyre pressure.
That the Departmental Committee report has been so long under consideration that it is now largely out Of date and in many respects misleading, as conditions have changed so rapidly.
That quite a lot of people are under the impression that there is to he a heavy Show again this year and that one corporation formally postponed a decision to Purchase buses the other •day to give the committee an opportunity to "inspect the new models at the Show."
HERE'S ONE
"I see they've found the missing link-500,000 years old."
"Lor! It won't be much use now. Couldn't be strong enough to couple up a trailer!"