Removers and the New Act P ROCEDURE adopted by the road
5th November 1948
Page 53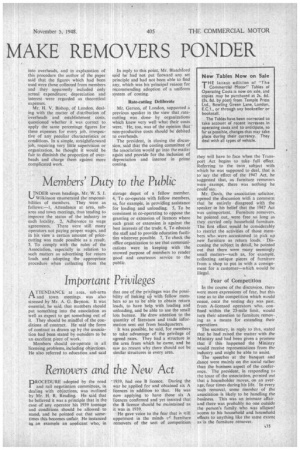 Page 53, 5th November 1948 —
Removers and the New Act P ROCEDURE adopted by the road
Close
Keywords :
and rail negotiation committees, in dealing with objections, was outlined by Mr. H. R. Reading. He said that he believed it was a principle that in the case of any operator his 1939 tonnage and conditions should be allowed to stand, and he pointed out that sometimes this becomes unfair. He instanced a.4 an example an applicant who, in -1939, had one B licence. During the war he applied for and obtained six A licences in addition to that. He was now applying to have those six A licences confirmed and yet insisted that the B licence should be maintained as it was in 1939.
He gave voice to the fear that is still uppermost in the minds er furniture removers of the sort of competition
they will have to face when the Transport Act begins to take full effect. Referring to the twin . subject with which he was supposed to deal, that is to' say the effect of the 1947 Act, he suggested that, as furniture removers were exempt, there was nothing he
couldsay.
Mr. Davis, the association solicitor, opened the discussion with a comment that he entirely disagreed with the speaker in his belief that the 1947 Act was unimportant. Furniture removers, he pointed out, were free so long as they carried only household furniture. The first effect would be considerably to restrict the activities of those members who were accustomed to pick up new furniture as return loads. Discussing the subject in detail, he pointed out that there were many seemingly small matters—such as, for example, collecting antique pieces of furniture from a shop to put in with a consignment for a customer—which would be illegal.
Fear of Competition In the course of the discussion, there were more expressions of fear, but this time as to the competition which would ensue, once the vesting day was past, from A-licensed operators who, confined within the 25-mile limit, would turn their attention to furniture removing as a means for extending their operations.
The secretary, in reply to this. stated that he had raised the matter with the Ministry and had been given a promise that if this happened the Ministry would receive representations from the industry and might be able to assist.
The speeches at the banquet and .dance were mainly on the social rather than the business aspect of the conference. The president, in responding to the toast of the association, pointed out that a householder moves, on an average, four times during his life. In every such removal, some member of the association is likely to be handling the bUsiness. This was an intimate affair, and there was probably no one outside the person's family who was allowed access to his household and household effects to anything like the same extent as is the furniture remover.