U.S. Maker Condemns Frontal Changes
5th November 1948
Page 34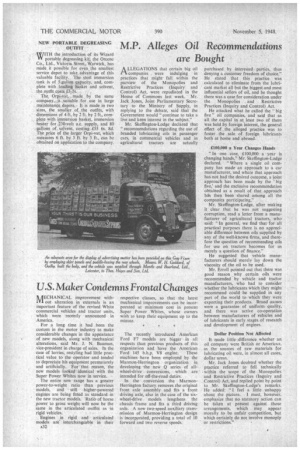 Page 34, 5th November 1948 —
U.S. Maker Condemns Frontal Changes
Close
AECHANICAL improvement withIVI out alteration in externals is an important feature of the revised White commercial vehicles and tractor units, which were recently announced in America.
For a long time it had been the custom in the motor industry to Make considerable changes in the appearance of new models, along with mechanical alterations, said Mr. J. N. Bauman, vice-president in charge of sales. In the case of lorries, restyling had little practical value to the operator and tended to depreciate his equipment prematurely and artificially. For that reason, the new models looked identical with the Super Power Whites now in service.
The entire new range has a greater power-to-weight ratio than previous models, and still higher-powered engines are being fitted as standard in the new tractor models. Ratio of horse power to gross' weight will now be the same in the articulated outfits as in rigid vehicles.
Engines in rigid and articulated models are interchangeable in their A32 respective classes, so that the, latest mechanical improvements can be incorporated at minimum cost in present Super Power Whites, whose owners wish to keep their equipment up to the minute.
The recently introduced American Ford F7 models are bigger in all respects than previous products of this organization and have the American Ford 145 b.h.p. V8 engine. These machines have been employed by the Marmon-Herrington organization in developing the new Q series of allwheel-drive conversions, which are intended for off-the-road duties.
In the conversion the MarmonHerrington factory removes the original front axle assembly and fits a front driving axle, also in the case of the sixwheel-drive • models lengthens the chassis frame and fits a third driving axle. A new two-speed auxiliary transmission of Marmon-Herrington design is incorporated, providing a total of 10 forward and two reverse speeds.