M.P. Alleges Oil Recommendations
5th November 1948
Page 34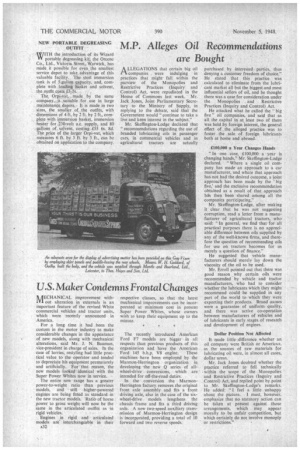 Page 34, 5th November 1948 —
M.P. Alleges Oil Recommendations
Close
are Bought
NEW PORTABLE DEGREASING OUTFIT -WJITH the introduction of its Wizard VV portable degreasing kit, the Orcene Co., Ltd., Victoria Street, Warwick, has made it possible for even the smallest service depot to take advantage of this valuable facility. The steel immersion tank is of 5-..gallon capacity, and, complete with loading basket and solvent,
the outfit costs.£3,,5s.
. .
The. Orpi-vat, . made by the same company, is Suitable . for use in large .maintenance depots. It is made in two sizes, the smaller of the outfits, with dimensions Of 4 ft. by 2 ft. by 2 ft., cornplete with immersion .basket, immersion heater for 230-volt a.c. supply, and 80 -gallons of solvent, costing .£55 6s. 8d. The price of the larger Orpi-vat, which measures 6 ft. by 3 ft. by 3 ft., can be obtained on application to the company. A LLEGATIONS that certain big oil 1-1.companies , were indulging in practices that might fall within the purview of the Monopolies and Restrictive Practices (Inquiry and Control) Act, were repudiated in the House of Commons last week. Mr. Jack Jones, Joint Parliamentary Secretary to the Ministry of Supply, in replying to the debate, said that the Government would "continue to take a live and keen interest in the subject."
Mr. Skeffington-Lodge declared that "recommendations regarding the use of branded lubricating oils in passenger cars, in commercial vehicles and in agricultural tractors are actually purchased by interested parties, thus denying a customer freedom of choice," He stated that this practice was calculated to eliminate from the lubricant market all but the biggest and most influential sellers of oil, and he thought there was a case for consideration under the Monopolies and Restrictive Practices (Inquiry and Control) Act.
He attacked what he called the " big five" oil companies, and said that as all the capital in at least two of them was held by foreign interest, the general effect of the alleged practice was to foster the sale of foreign lubricants both at home and abroad.
£100,000 a Year Changes Hands "In one case, £100,000 a year is changing hands," Mr. Skeffington-Lodge declared. "Where a single oil company has made an approach to a car manufacturer, and where that approach has not had the desired outcome, a joint approach has been made by the 'big five,' and the exclusive recommendation obtained as a result of that approach hSs then been shared among all the companies participating."
Mr. Skeffington-Lodge, after making it clear that he was not suggesting corruption, read a letter from a manufacturer of agricultural tractors, who said: "In general, we find thatfor all practical purposes there is no appreciable difference between oils supplied by any of the well-known firms, and therefore the question of recommending oils for use on tractors becomes for us merely a question of finance."
He suggested that vehicle manufacturers should merely lay down the viscosity of the oil to be used.
Mr. Erroll pointed out that there was good reason ,why certain oils were recommended by vehicle and tractor manufacturers, who had to consider whether the lubricants which they might recommend could be supplied in any part of the world to which they were exporting their products. Brand names were a guarantee of uniform quality, and there was active co-operation between manufacturers of vehicles and of lubricants in early stages of research and development of engines.
Dollar Position Not Affected It made little .difference whether an oil company were British or American. as the sources of raw materials for lubricating oil were, in almost all cases, dollar areas.
Mr. Jack Jones doubted whether the practice referred to fell technically within the scope of the Monopolies and Restrictive Practices (Inquiry and Control) Act, and replied point by point to Mr. Skeffington-Lodge's remarks. He added: "t feel a little unhappy about the picture. I must, however. emphasize that no statutory action can be taken at present against those arrangements, which may appear morally to be unfair competition, but which certainly do not involve monoply or restrictions."