In a Lin e or Two
5th November 1948
Page 32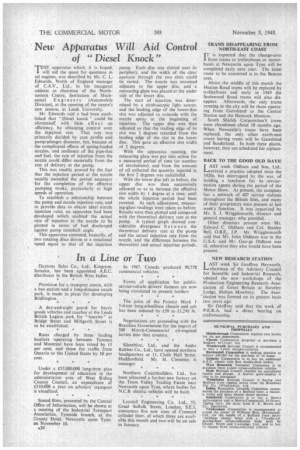 Page 32, 5th November 1948 —
In a Lin e or Two
Close
Daytona Sales Co., Ltd., Kingston. Jamaica, has been appointed A.E.C. distributor in the British West Indies. * Provisioft for a transport centre, with a bus station'and a long-distance coach park, is made in plans for developing Bridlington.
A day-and-night guard for heavy goods vehicles and coaches at the Leeds British Legion park for heavies" at Bridge Street and Millgarth Street is to be established.
Rates charged by three leading hauliers operating between Toronto and Montreal have been raised by 15 per cent, and those for traffic from Ontario to the United States by 10 per cent.
Under a £55,000,000 long-term plan for development of education in the administrative area of West Riding County Council, an expenditure of £310,000 a year on scholars' transport is visualized.
Sound films, presented by the Central Office of Information, will be shown at a meeting of the Industrial Transport Association, Tyneside branch, at the County Hotel, Newcastle upon Tyne, on November 18.
A30 In 1947, Canada produced 90,758 commercial vehicles.
Forms of application for publicservice-vehicle drivers' licences are now being circulated to present holders • • The price of the Proctor Matk 1 5-6-ton long-wheelbase chassis and cab has been reduced by £50 to £1,296 9s. • Negotiations are proceeding with the Brazilian Government for the import of 300 Morris-Commercial oil-engined lorries into that country.
Silentbloc. Ltd., and the Andre Rubber Co.. Ltd., have opened northern headquarters at II, Cloth Hall Street, Huddersfield. Mr. H. Clements is manager.
Northern Coachbuilders, Ltd., has been allocated a further new factory on the Team Valley Trading Estate near Newcastle upon Tyne, where bodies for N.C.B electric vehicles will be built.
Laystall Engineering Co. Ltd., 53, Great Suffolk Street, London. S.E.1, announces five new sizes of Cromard cylinder liner, of which three are available this month and two will be on sale in January.