News' of the Week
5th November 1948
Page 28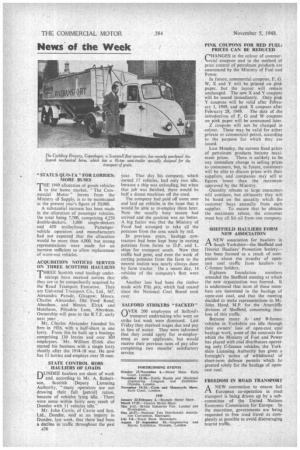 Page 28, 5th November 1948 —
News' of the Week
Close
"STATUS QUO-TA" FOR LORRIES; MORE BUSES
THE 1949 allocation of goods vehicles to the home market, "The Commercial Motor" learns from the Ministry of Supply, is to be maintained at the present year's figure of 50,040.
A substantial increase has been made in the allocation of passenger vehicles, the total being 7.700, comprising 4,250 double-deckers, 3.000 single-deckers and 450 trolleybuses. Pagsengervehicle operators and manufacturers had not expected that the allocation would be more than 4,000, but strong representations were made for an increase sufficient to allow replacement of worn-out vehicles.
ACQUISITION NOTICES SERVED ON THREE SCOTTISH HAULIERS
THREE Scottish road haulage undertakings have received notices that they are to be compulsorily acquired by the .Road Transport Executive. They are Universal Transport,Co., Ltd., 367, Alexandra Parade, Glasgow; Messrs. Charles Alexander, Old. Ford Road. Aberdeen, and Messrs. Elrick and Hutcheon, Pittodrie Lane, Aberdeen. Ownership will pass to the R.T.E. early next year..
Mr. Charles Alexander founded his firm in 1926, with a half-share in one lorry. From this he built up a busineos comprising 130 lorries and over 300 employees. Mr. William Elrick also started his business with a single lorry shortly after the 1914-18 war. He now has II lorries and employs over 30 men.
STATE CONTROL ROBS HAULIERS OF LOADS
DUNDEE hauliers are short of work and, according to Mr. A. Robertson, Scottish Deputy Licensing Authority, 'many operators are not drawing their full [petrol] ration, because of vehicles lying idle. There were some within fairly easy reach of Dundee with 11 vehicles idle."
Mr. John Carrie, Of Carrie and Son, Ltd., Dundee, said at an inquiry in Dundee, last week, that there bad been a decline in traffic throughout the past A26 year. That day his company, which owned 17 vehicles, had only two idle, because a ship was unloading, but when that job was finished, there would be half a dozen machines off the road.
The company had paid off some men and laid up vehicles in the hope that it would be able to re-employ them later. Now the usually busy season had arrived and the position was no better. A big factor was that the Ministry of Food had arranged to take all the potatoes from the area south by rail.
In previous years, haulage contractors had been kept busy in carting potatoes from farms to D.P. and L. ships for transport south. Now that traffic had gone, and even the work of carting potatoes from the farm to the nearest station was nearly always done by farm tractor. On a recent day, 14 vehicles of the company's fleet were idle.
Another loss had been the timber trade with Fife pits, which had ceased since the National Coal Board took over.
SALFORD STRIKERS "SACKED "
nVER 200 employees of Salford's
transport undertaking who went on strike last week were dismissed. Last Friday they received wages due and pay in lieu of notice. They were informed that they could apply for re-employment as new applicants, but would receive their previous rates of pay after completing two months' satisfactory service.
PINK COUPONS FOR RED FUEL: PRICES CAN BE REDUCED
CHANGES in the colour of commercial coupons and in the method of price control of petroleum products are announced by the Ministry of Fuel and Power.
In future, commercial coupons. F, G. W, X and Y will be printed on pink paper, but the layout will remain unchanged. The new X and Y coupons will be issued immediately. Only pink Y coupons will be valid after February 1, 1949, and pink X coupons after February 28, 1949. The date of the introduction of F, 0 and W coupons on pink paper will be announced later.
Z coupons will not be changed in colour. These may be Valid foreither private or commercial petrol, according to the purpose for which they are issued.
Last Monday, the current fixed prices of petroleum products became maxi mum prices. There is unlikely to be any immediate change in selling • prices to consumers, but, in future, customers will be able to discuss prices with their suppliers, and companies may setl at figures lower than the maximum approved by the Ministry.
Quantity rebates to large consumers will continue, but ultimately they will be based on the quantity which the customer buys annually from each supplier. To ensure that he obtains the maximum rebate, the consumer must buy all his oil from one company_
SHEFFIELD HAULIERS FORM NEW ASSOCIATION
A NEW association for hauliers in An, South Yorkshire—the Sheffield and District Hauliers' Protection Society= has been formed as a result of complaints about the transfer of opencast coal traffic from hauliers to C-licence holders.
Eighteen foundation members attended the Sheffield meeting at which the new organization was formed. It is understood that most of these members are interested in the haulage of open-cast coal, and that the meeting decided to make representations to Mr. John Hynd, M.P. for the Attercliffe division of Sheffield, concerning their loss of this traffic.
Because many Aand B-licence vehicles in Yorkshire are idle through their owners' loss of open-cast coal haulage work, some of the contracts for which the Ministry of Fuel and Power has placed with coal distributors operating only C-licence vehicles, the Yorkshire Licensing Authority has given a fortnight's notice of withdrawal of short-term defence permits which he granted solely for the haulage of opencast coal.
FREEDOM IN ROAD TRANSPORT
ANEW convention to ensure full European co-operation in road transport is being drawn up by a subcommittee of the United Nations Economic Commission for Europe. In the meantime, governments are being requested to free road travel as completely as possible to avoid discouraging tourist traffic.