One Hears
5th November 1948
Page 27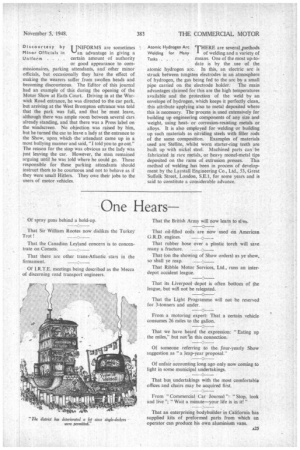 Page 27, 5th November 1948 —
One Hears
Close
Of spray guns behind a hold-op.
That Sir William Rootes now dislikes the Turkey Trot !
That the Canadian Leyland concern is to concentrate on Comets.
That there are other trans-Atlantic stars in the firmament.
Of I.R.T.E. meetings being described as the Mecca of discerning road transport engineers. That the British Army will now learn to sr.m.
That oil-filled coils are now used on American . G.R.D. engines.
That rubber hose over a plastic torch will save many a fracture.
That (on the showing of Show orders) as ye show, so shall ye reap.
That Ribble Motor Services, Ltd., runs an interdepot accident league.
That its Liverpool• depot is often bottom of the league, but win not be relegated.
That the Light Programme will not be reserved for 3-tonners and under.
From a motoring expert: That a certain vehicle consumes 26 miles to the gallon.
That we have heard the expression: "Eating up the miles," but not in this connection.
Of someone referring to the, ,fouryearly Show suggestion as "a leap-year proposal."
Of unfair accounting long ago only now coming to light in some municipal undertakings.
That bus undertakings with the most comfortable offices and chairs may be acquired first.
From "Commercial Car Journal ""Stop, look and live "; " Wait a minute—your life is in it! "
That an enterprising bodybuilder in California has supplied kits of preformed parts from which an operator can produce his own aluminium vans.