Passing Comments
5th November 1948
Page 26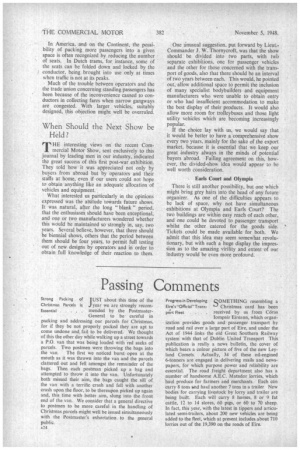 Page 27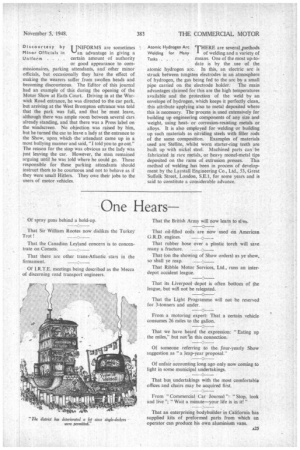 Page 26, 5th November 1948 —
Passing Comments
Close
Strong Packing of TUST about this time of the Christmas Parcels Is J year we are strongly recom
Essential mended by the Postmaster General to be careful in packing and addressing our parcels for Christmas, for if they be not properly packed they are apt to come undone and fail to be delivered. We thought of this the other day while walking up a street towards a P.O. van that was being loaded with red sacks of parcels. Two postmen were throwing the bags into the van The first we noticed burst open at the mouth as it was thrown into the van and the parcels clattered out and fell amongst the remainder of the bags. Then each postman picked up a bag and attempted to throw it into the van. Unfortunately both missed their aim, the bags caught the sill of the van with a terrific crash and fell with another crash upon the floor, to be thereupon picked up again and, this time with better aim, slung into the front end of the van. We consider that a general directive to postmen to be more careful in the handling of Christmas parcels might well be issued simultaneously with the Postmaster's exhortation to the general
Progress in Developing SOMETHING resembling a EI re's "Official" Trans'—' Christmas card has been pin Fleet . . • . received by us from Cdras Iompair Eireann, which organization provides goods and passenger transport by road and rail over a large part of Eire, and under the Act of 1944 links the old Great Southern Railway system with that of Dublin United Transport This publication is really a news bulletin, the cover of which bears a colour picture of five of the new Leyland Comets. Actually, 34 of these oil-engined 6-tonners are engaged in delivering mails and newspapers, for which purpose power and reliability are essential. The road freight department also has a number of handsome A.E.C. Matador lorries, which haul produce for farmers and merchants. Each can carry 8 tons and haul another 7 tons in a trailer New bodies for carrying livestock by lorry and trailer are being built. Each will carry 8 horses, 8 or 9 fat cattle, 12 to 14 stores, 60 pigs, or 60 to 70 sheep. In fact, this year, with the latest in tippers and articulated semi-trailers, about 200 new vehicles are being added to the fleet, which at present includes about 710 lorries out of the 19,390 on the roads of Eire.
Discourtesy by j INIFORMS are sometimes Minor Officials in ''an advantage in giving a Un !form . . . certain amount of authority
or good appearance to commissionaires, parking attendants, and other minor officials, but occasionally they have the effect of making the wearers suffer from swollen heads and becoming discourteous. The Editor of this journal had an example of this during the opening of the Motor Show at Earls Court. Driving in at the Warwick Road entrance, he was directed to the car park, but arriving at the West Brompton entrance was told that the park was full, and that he must leave, although there was ample room between several ears already standing, and that there was a Press label on the windscreen. No objection was raised by him, but he turned the car to leave a lady at the entrance to the Show, upon which the -attendant came up in a most bullying manner and said, "I told you to go out." The reason for the stop was obvious as the lady was just leaving the car. However, the man remained arguing until he was told where he could go. Those responsible for these parking attendants should instruct thern to be courteous and not to behave as if they were small Hitters. They owe their jobs to the users of motor vehicles. Atomic Hydrogen Arc THERE are several ,methods Welding for Many I of welding and a variety of Tasks means. One of the most up-to
date is by the . use of the atomic hydrogen arc. In this, an electric arc is struck between tungsten electrodes in an atmosphere of hydrogen, the gas being fed to the arc by a small
pipe carried on the electrode holder. The main advantages claimed for this are the high temperatures available and the protection of the weld by an envelope of hydrogen, which keeps it perfectly clean, this attribute applying also to metal deposited where this is necessary. The process is used extensively for building up engineering components of any size and weight, using heator corrosion-resisting metals or alloys. It is also employed for welding or building up such materials as nitriding steels with filler rods of the same composition. Examples of materials used are Stellite, .whilst worn starter-ring teeth are built up with nickel steel. Machined parts can be fabricated in rare metals, or heavy monel-metal tips
deposited on the rains of extrusion presses. This method of welding has been in process of development by the Laystall Engineering Co., Ltd., 53, Great Suffolk Street, London, S.E.1, for some years and is said to constitute a considerable advance.