Three-year plan for SA
5th June 2003
Page 21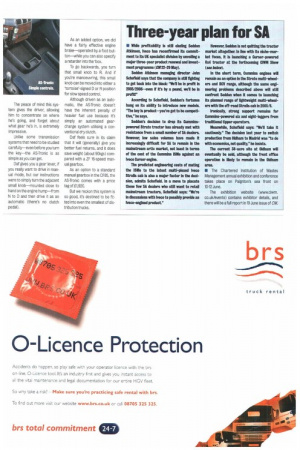 Page 21, 5th June 2003 —
Three-year plan for SA
Close
W While profitability Is still eluding Seddon Atkinson, Ivaco has reconfirmed its commitment to Its UK specialist division by unveiling a major three-year product renewal and investment programme (CM 22-29 May).
Seddon Atkinson managing director John Schofield says that the company is still %Ming to get back into the black: "Well be In profit in 2005/2006—even if it's by a pound, we'll be In profit" According to Schofield, Seddon's fortunes hang on Its ability to introduce new models. "The key is product—you've got to be competitive," he says.
Seddon's decision to drop its Cumminspowered Strata tractor has already met with resistance from a small number of SA dealers. However, low sales volumes have made it Increasingly difficult for SA to remain in the mainstream artic market, not least In terms of the cost of the Cummins ISM» against an lveco Cursor engine.
The predicted engineering costs of mating the ISMe to the latest multi-plexed Ivaco Strolls cab is also a major factor in the decision, admits Schofield. In a move to placate those few SA dealers who still want to retail mainstream tractors, Schofield says: "We're in discussions with Ivaco to possibly provide an Iveco-engined product." However Seddon is not quitting the tractor market altogether. In line with its niche-market focus, it is launching a Cursor-powered 6x4 tractor at the forthcoming CRVM Show (see below).
In the short term, Cummins engines will remain as an option In the Strato multi-wheelers and ACV range, although the same engineering problems described above will still confront Seddon when it comes to launching its planned range of lightweight multi-wheelers with the off-road Strolls cab in 2005/6.
Ironically, strong support remains for Cummins-powered six and eight-loggers from traditional tipper operators.
Meanwhile, Schofield says: "We'll take It cautiously." The decision last year to switch production from Oldham to Madrid was "to do with economics, not quality," he insists.
The current 38-acre site at Oldham will eventually be sold, although the front office operation is likely to remain in the Oldham area.
• The Chartered Institution of Wastes Management annual exhibition and conference takes place on Paignton's sea front on 10-12 June.
The exhibition webstte (www.ciwrn. co.ukievents) contains exhibitor details, and there will be a full report in 19 June issue of CM.