Ecosse loses licence
5th June 1997
Page 8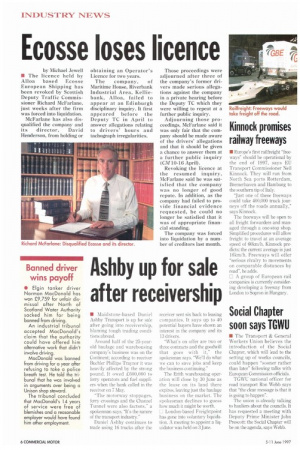 Page 8, 5th June 1997 —
Ecosse loses licence
Close
by Michael Jewell • The licence held by Alloa based Ecosse European Shipping has been revoked by Scottish Deputy Traffic Commissioner Richard McFarlane, just weeks after the firm was forced into liquidation.
McFarlane has also disqualified the company and its director, David Henderson, from holding or obtaining an Operator's Licence for two years.
The company, of Maritime House, Riverbank Industrial Area, Kettlebank, Alloa, failed to appear at an Edinburgh disciplinary inquiry, It first appeared before the Deputy TC in April to answer allegations relating to drivers' hours and tachograph irregularities. Those proceedings were adjourned after three of the company's former drivers made serious allegations against the company in a private hearing before the Deputy TC which they were willing to repeat at a further public inquiry.
Adjourning those proceedings, McFarlane said it was only fair that the company should be made aware of the drivers' allegations and that it should be given a chance to answer them at a further public inquiry (CM 10-16 April).
Revoking the licence at the resumed inquiry, McFarlane said he was satisfied that the company was no longer of good repute. In addition, as the company had failed to provide financial evidence requested, he could no longer be satisfied that it was of appropriate financial standing.
The company was forced into liquidation by a number of creditors last month.