Ashby up for sale after receivership
5th June 1997
Page 8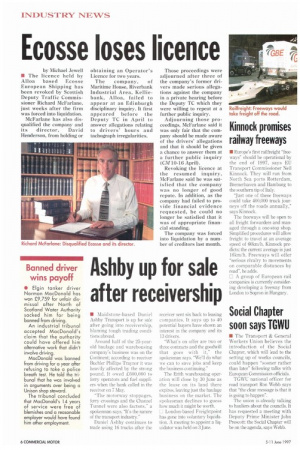 Page 8, 5th June 1997 —
Ashby up for sale after receivership
Close
Keywords :
Bankruptcy
,
Insolvency Law
,
Finance
,
Corporations Law
,
Business Law
,
Receivership
,
Liquidation
,
Haulage
,
Liquidator
,
Leasing
,
Business / Finance
• Maidstone-based Daniel Ashby Transport is up for sale after going into receivership, blaming tough trading conditions abroad.
Around half of the 25-yearold haulage and warehousing company's business was on the Continent; according to receiver Buehler Phillips Traynor it was heavily affected by the strong pound. It owed £600,000 to ferry operators and fuel suppliers when the bank called in the receiver on 7 May.
"The motorway stoppages, ferry crossings and the Channel Tunnel were also factors," a spokesman says. "It's the nature of the transport industry."
Daniel Ashby continues to trade using 16 trucks after the receiver sent six back to leasing companies. It says up to 40 potential buyers have shown an interest in the company and its 13 drivers, "What's on offer are two or three contracts and the goodwill that goes with it," the spokesman says. "We'll do what we can to save jobs and keep the business continuing."
The Erith warehousing operation will close by 30 June as the lease on its land there expires, leaving just the haulage business on the market. The spokesman declines to guess how much it might be worth.
Ll London-based Freightpoint has gone into voluntary liquidation. A meeting to appoint a liquidator was held on 3 June.