indoul.11
5th June 1997
Page 36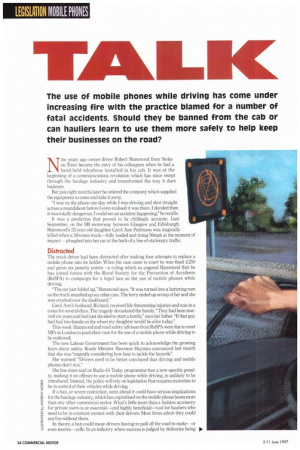 Page 38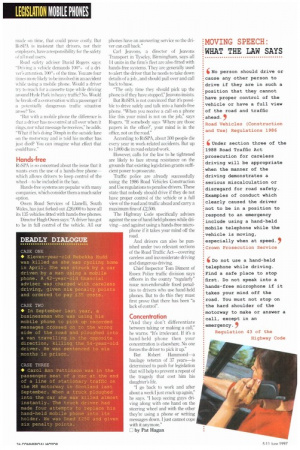 Page 36, 5th June 1997 —
indoul.11
Close
Keywords :
Mobile Telecommunications
,
Road Transport
,
Traffic Law
,
Car Safety
,
Motorcycle Safety
,
Mobile Phones And Driving Safety
,
Mobile Phone
,
Handsfree
,
Road Traffic Safety
,
Driving
,
Truck Driver
,
Traffic Collision
,
Disaster / Accident
The use of mobile phones while driving has come under increasing fire with the practice blamed for a number of fatal accidents. Should they be banned from the cab or can hauliers learn to use them more safely to help keep their businesses on the road?
ine years ago owner-driver Robert Hammond from Stoke \I on-Trent became the envy of his colleagues when he had a
1
hand-held telephone installed in his cab. It was at the beginning of a communications revolution which has since swept through the haulage industry and transformed the way it does business.
But just eight months later he ordered the company which supplied the equipment to come and take it away.
"I was on the phone one day while I was driving and shot straight across a roundabout before I even realised it was there, I decided then it was totally dangerous. I could see an accident happening," he recalls It was a prediction that proved to be chillingly accurate. Last September, on the MS motorway between Glasgow and Edinburgh, Hammond's 32-year-old daughter Carol Ann Pattinson was tragically killed when a 38-tonne truck—fully loaded and doing 56mph at the moment of impact— ploughed into her car at the back of a line of stationary traffic.
Distracted The truck driver had been distracted after making four attempts to replace a mobile phone into its holder. When the case came to court he was fined £250 and given six penalty points—a ruling which so angered Hammond that he has joined forces with the Royal Society for the Prevention of Accidents (RoSBA) to campaign for a legal ban on the use of mobile phones while driving.
"The car just folded up," Hammond says. "It was turned into a battering ram as the truck smashed up six other cars. The lorry ended up on top of her and she was crushed over the dashboard."
Carol Ann's husband, Richard, received life threatening injuries and was in a coma for several days. The tragedy devastated the family "They had been married six years and had just decided to shirt a family," says her father. "If that guy had had two hands on the wheel my daughter would be alive today."
This week Hammond and road safety advisers from RoSPA were due to meet !VIPs in London to push their case for the use of a mobile phone while driving to be outlawed.
The new Labour Government has been quick to acknowledge the growing fears about safety Roads Minister Baroness Hayman announced last month that she was "urgently considering how best to tackle the hazards".
She warned: "Drivers need to be better convinced that driving and mobile phones don't mix."
She has since said on Radio 4's Today programme that a new specific penalty, making it an offence to use a mobile phone while driving, is unlikely to be introduced. Instead, the police will rely on legislation that requires motorists to be in control of their vehicles while driving.
If a ban, or severe restriction, went ahead it could have serious implications for the haulage industry, which has capitalised on the mobile phone boom more than any other commercial sector. What's little more than a fashion accessory for private users is an essential—and highly beneficial—tool for hauliers who need to be in constant contact with their drivers. Most firms admit they could not live without them.
In theory, a ban could mean drivers having to pull off the road to make—or even receivc calls. In an industry where success is judged by deliveries being
made on time, that could prove costly But RoSPA is insistent that drivers, not their mph ivers. have a responsibility for the safety if all l'Oitcl users.
Road safety adviser David Rogers says: 'Driving a vehicle demands 100'. of a driver's attention, l(XJ'o of the time. You are four times nu ire likely to be involved in an accident while using a mobile phone. Would a driver try to reach fina cassette tape while driving around Hyde Park in heavy traffic? No. Would he break id a conversation with a passenger if a potentially dangerous traffic situation arose? Yes.
"But with a mobile phone the difference is that a driver has no control at all over when it rings, MT what message he receives," he adds. "What if he's doing 70mph in the outside lane in the motorway and is told his mother has just died? You can imagine what effect that could have."
Hands-free RoSPA is so concerned about the issue that it wants even the use of a hands-free phone— which allows drivers to keep control of the wheel— to be included in the ban.
Hands-free systems are popular with many companies, which consider them a much safer option.
Owen Road Services of Llanelli, South Wales, has just forked out £26,000 to have all its 135 vehicles fitted with hands-free phones.
Director Hugh Owen says: "A driver has got to be in full control of the vehicle. All our phones have an answering service so the driver can call back: Carl Jeavons, a director of Jeavons Transport in Tyseley, Birmingham, says all 14 units in the firm's fleet are also fitted with hands-free systems. They are generally used to alert the driver that he needs to take down details of a job , and should pull over and call back to base.
"The only time they should pick up the phone is if they have stopped," Jeavons insists.
But RoSPA is not convinced that it's possible to drive safely and talk into a hands-free phone. "When you receive a call on a phone like this your mind is not on the job," says Rogers. "If somebody says 'Where are those papers in the office?', your mind is in the office, not on the road."
According to RoSPA, about 300 people die every year in work-related accidents. But up to 1,000 die in road-related work.
however, calls for the law to be tightened are likely to face strong resistance on the grounds that existing legislation grants sufficient power to prosecute.
Traffic police are already successfully using the 1986 Road Vehicles Construction and Use regulations to penalise drivers. These state that nobody should drive if they do not have proper control of the vehicle or a full view of the road and traffic ahead and carry a maximum fine of £2,500.
The Highway Code specifically advises against the use of hand-held phones while driving—and against using a hands-free microphone if it takes your mind off the road.
And drivers can also be punished under two relevant sections of the Road Traffic Act—covering careless and inconsiderate driving and dangerous driving.
Chief Inspector Tom Diment of Essex Police traffic division says officers in the county "regularly" issue non-endorsable fixed penalties to drivers who use hand-held phones. But to do this they must first prove that there has been "a lack of control".
Concentration
"And they don't differentiate between taking or making a call," he warns. "lt's irrelevant. If it's a hand-held phone then your concentration is elsewhere. No one forces the driver to pick it up."
But Robert Hammond—a haulage veteran of 37 years—is determined to push for legislation that will help to prevent a repeat of the tragedy that cost him his daughter's life.
"I go back to work and after about a week [just crack up again," he says. "I keep seeing guys driving along with one hand on the steering wheel and with the other they're using a phone or writing messages down. I just cannot cope with it anymore."
El by Pat Hagan