Payment in full
5th June 1997
Page 24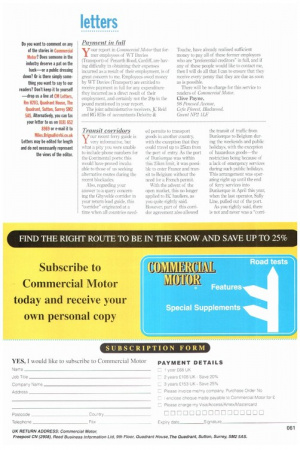 Page 24, 5th June 1997 —
Payment in full
Close
XT our report in Commercial Motothat for mer employees of WI' Davies (Transport) of Penarth Road, Cardiff, are having difficulty in obtaining their expenses inclined as a result of their employment, is of great concern to me. Employees owed money by WT Davies (Transport) are entitled to receive payment in full for any expenditure they incurred as a direct result of their employment, and certainly not the 20p in the pound mentioned in your report.
The joint administrative receivers, ,JC Reid and RG Ellis of accountants Deloitte
lbuche, have already realised sufficient money to pay all of these former employees who are "preferential creditors" in full, and if any of these people would like to contact me, then I will do all that I can to ensure that they receive every penny that they are due as soon as is possible.
There will be no charge for this service to readers of Commercial Motor.
Clive Payne, 98 Pencoecl Avenue, L'efn /'forest, Blackwood.
Gwent NP2 )LE