Glos enters blitz on faulty vehicles
5th June 1997
Page 12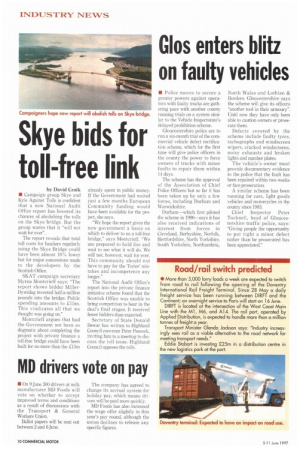 Page 12, 5th June 1997 —
Glos enters blitz on faulty vehicles
Close
• Police moves to secure a greater powers against operators with faulty trucks are gathering pace with another county running trials on a system similar to the Vehicle Inspectorate's delayed prohibition scheme.
Gloucestershire police are to run a six-month trial of the commercial vehicle defect rectification scheme, which for the first time will give police officers in the county the power to force owners of trucks with minor faults to repair them within 14 days.
The scheme has the approval of the Association of Chief Police Officers but so far it has been taken up by only a few forces, including Durham and Warwickshire.
Durham—which first piloted the scheme in 1990—says it has also received indications of interest from forces in Cleveland, Derbyshire, Norfolk, Hertfordshire, North Yorkshire, South Yorkshire, Northumbria, North Wales and Lothian & Borders. Gloucestershire says the scheme will give its officers "another tool in their armoury". Until now they have only been able to caution owners or prosecute them.
Defects covered by the scheme include faulty tyres, tachographs and windscreen wipers, cracked windscreens, noisy exhausts and broken lights and number plates.
The vehicle's owner must provide documentary evidence to the police that the fault has been repaired within two weeks or face prosecution.
A similar scheme has been running for cars, light goods vehicles and motorcycles in the county since 1983.
Chief Inspector Peter Tocknell, head of Gloucestershire traffic police, says: "Giving people the opportunity to put right a minor defect rather than be prosecuted has been appreciated."
Tags
Locations
:
North Yorkshire
,
Derbyshire
,
Norfolk
,
North Wales
,
Lothian
,
South Yorkshire
,
Hertfordshire
,
Warwickshire
,
Durham
,
Cleveland
,
Northumbria