Seats an issue for 1-drivers
5th June 1997
Page 11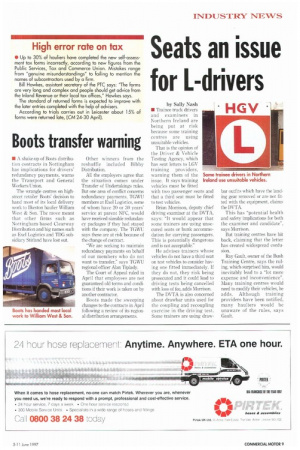 Page 11, 5th June 1997 —
Seats an issue for 1-drivers
Close
by Sally Nash • Trainee truck drivers and examiners in Northern Ireland are being put at risk because some training centres are using unsuitable vehicles.
That is the opinion of the Driver & Vehicle Testing Agency, which has sent letters to LGV training providers, warning them of the issue. It says training vehicles must be fitted with two passenger seats and that a third seat must be fitted to test vehicles.
Brian Morrison, deputy chief driving examiner at the DVTA, says: "It would appear that some trainers are using unsecured seats or bunk accommodation for carrying passengers. This is potentially dangerous and is not acceptable."
He advises trainers whose vehicles do not have a third seat on test vehicles to consider having one fitted immediately. If they do not, they risk being prosecuted and it could lead to driving tests being cancelled with loss of fee, adds Morrison.
The MITA is also concerned about drawbar units used for the coupling and recoupling exercise in the driving test. Some trainers are using draw bar outfits which have the landing gear removed or are not fitted with the equipment, claims the ovTA.
This has "potential health and safety implications for both the examiner and candidate", says Morrison.
But training centres have hit back, claiming that the letter has created widespread confusion.
Ray Gault, owner of the Bush Training Centre, says the ruling, which surprised him, would inevitably lead to a "lot more expense and inconvenience". Many training centres would need to modify their vehicles, he adds. Although training providers have been notified, many hauliers would be unaware of the rules, says Gault.