Passing Comments
5th June 1942
Page 16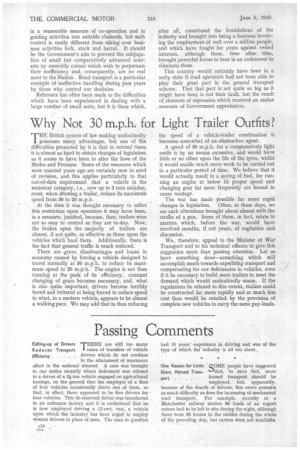 Page 17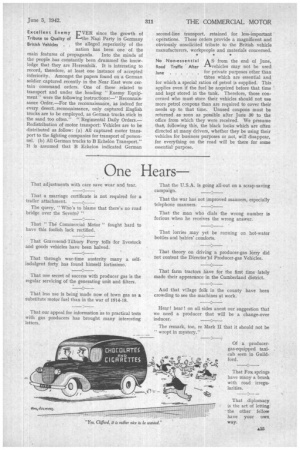 Page 16, 5th June 1942 —
Passing Comments
Close
Calling-up of Drivers rr'HERE are still too many Reduces Transport L cases of transfers of vehicle Efficiency drivers which do not conduce to the attainment of maximum effort in the national interest. A case was brought to our notice recently where deferment was refused to a driver of a 2i-ton vehicle engaged on agricultural haulage, on the ground that the employer of a fleet of four vehicles occasionally drove one of them, so that, in effect, there appeared to be five drivers for four vehicles. This de-reserved driver was transferred to an ordnance factory and it is understood that he is now employed driving a 12-cwt. van, a vehicle upon which the industry has been urged to employ women drivers in place of men. The man in question
t14
had IS years' experience in driving and was of the type of which the industry is all too short.
S°MEpeople have suggested that, to save fuel, more
horsed transport 'should be employed, but, apparently, because of the dearth of drivers, this move presents as much difficulty as does the increasing of mechanical road transport. For example, recently at a
Manchester railway station 80 loads of an urgent nature had to be left in situ during the night, although
there were 30 horses in the stables during the whole of the preceding day but carters were not available.
port
EVER since the growth of 1--othe Nazi Party in Germany the alleged superiority of the nation has been one of the main features of propaganda. Into the minds of the people has constantly been drummed the knowledge that they are Herrenfolk. It is interesting to record, therefore, at least one instance of accepted inferiority. Amongst the papers found on a German soldier captured recently in the Near East were certain command orders. One of these related to transport and under the heading "Enemy Equipment" were the following instructions:—" Reconnaissance Order.—For the reconnaissance, as indeed for every desert.reconnaissance, only captured English trucks are to be employed, as German trucks stick in the sand too often." "Regimental Daily Orders.— Redistribution of motor transport: Vehicles are to be distributed as follow: (a) All captured motor transport to the fighting companies for transport of personnel. (b) All German trucks to B Echelon Transport." It is assumed that B Echelon indicated German
Excellent Enemy Tribute to Quality of British Vehicles . . second-line transport, retained for less-important operations. These orders provide a magnificent and obviously unsolicited tribute to the British vehicle manufacturers, workpeople and materials concerned.
No Non-essential S from the end of June,
Road Traffic After rxvehicles may not be used
June for private purposes other than thbse which are essential and for which a special ration of petrol is supplied. This applies even if the fuel be acquired before that time and kept stored in the tank. Therefore, those concerned who must store their vehicles should not use more petrol coupons than are required to cover their needs up to that time. Unused coupons must be returned as soon as possible after June 30 to the office from which they were received. We presume that, following this, the black looks which are often directed at many drivers, whether they be using their vehicles for business purposes or not, will disappear, for everything on the road will be there for some essential purpose.