'The railways will use their fundings to undermine our industry'
5th January 1995
Page 39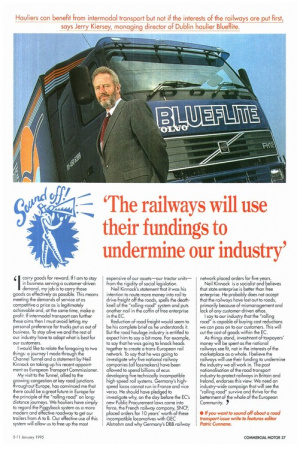 Page 39, 5th January 1995 —
'The railways will use their fundings to undermine our industry'
Close
g carry goods for reward. If I am to stay
I in business serving a customer-driven demand, my job is to carry those goods as effectively as possible. This means meeting the demands of service at os competitive a price as is legitimately achievable and, at the same time, make a profit. If intermoclal transport can further these aims then I must avoid letting my personal preference for trucks put us out of business. To stay alive we and the rest of our industry have to adopt what is best for our customers.
I would like to relate the foregoing to two things: a journey I made through the Channel Tunnel and a statement by Neil Kinnock on taking up his recent appointment as European Transport Commissioner. My visit to the Tunnel, allied to the growing congestion at key road junctions throughout Europe, has convinced me that there could be a great future in Europe for the principle of the "rolling road" on longdistance 'journeys. We hauliers have simply to regard the Piggyback system as a more modern and effective roadway to get our trailers from A to B. Our effective use of this system will allow us to free up the most expensive of our assets—our tractor units— from the rigidity of social legislation.
Neil Kinnock's statement that it was his intention to route more money into rail to drive freight off the roads, spells the deathknell of the "rolling-road" system and puts another nail in the coffin of free enterprise in the EC.
Reduction of road freight would seem to be his complete brief as he understands it. But the road haulage industry is entitled to expect him to say a bit more. For example, to say that he was going to knock heads together to create a trans-European rail neiwork. To say that he was going to investigate why five national railway companies (all lossmakers) have been allowed to spend billions of ecus developing five technically incompatible high-speed rail systems. Germany's highspeed locos cannot run in France and vice versa. He should have pledged to investigate why, on the 'day before the EC's new Public Procurement laws came into force, the French railway company, SNCF, placed orders for 10 years' worth of these incompatible locomotives with GEC Alstrohm and why Germany's DBB railway network placed orders for five years. Neil Kinnock is a socialist and believes that state enterprise is better than free enterprise. He probably does not accept that the railways have lost out to roads, primarily because of mismanagement and lock of any customer-driven ethos. I say to our industry that the 'rolling road" is capable of buying cost reductions we can pass on to our customers. This will cut the cost of goods within the EC. As things stand, investment of taxpayers' money will be spent as the national railways see fit, not in the interests of the marketplace as a whole, I believe the railways will use their funding to undermine the industry we all work in. The past nationalisation of the road transport industry to protect railways in Britain and Ireland, endorses this view. We need an industry-wide campaign that will see the "rolling road" survive and thrive for the betterment of the whole of the European Community.