Here to stay
5th January 1995
Page 38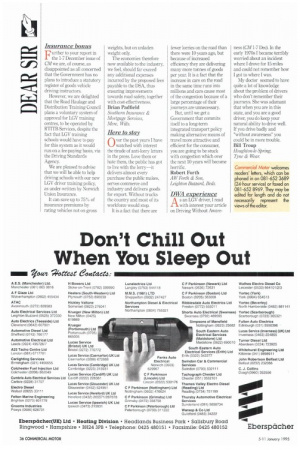 Page 38, 5th January 1995 —
Here to stay
Close
Othe past years I have IL/watched with interest the tirade of anti-lorry letters in the press. Love them or hate them, the public has got to live with the lorry—it delivers almost every purchase the public makes, serves commerce and industry and delivers goods for export. Without trucks the country and most of its workforce would stop.
It is a fact that there are fewer lorries on the road than there were 10 years ago, but because of increased efficiency they are delivering many more tonnes of goods per year. It is a fact that the increase in cars on the road in the same time runs into millions and cars cause most of the congestion because of a large percentage of their journeys journeys are unnecessary.
But, until we get a Government that commits itself to a long-term integrated transport policy making alternative means of travel more attractive and efficient for the consumer, you are going to be stuck with congestion which over the next 10 years will become horrific.
Robert Forth AW Forth & Son, Leighton Buzzard, Beds.