Sheeting from the cab
5th January 1995
Page 11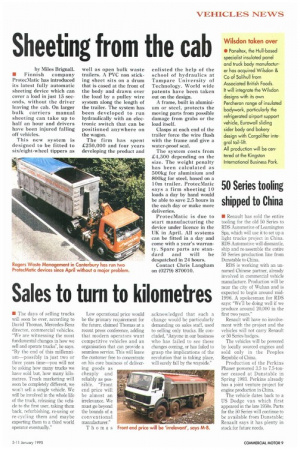 Page 11, 5th January 1995 —
Sheeting from the cab
Close
by Miles Brignall.
• Finnish company ProtecMatic has introduced its latest fully automatic sheeting device which can cover a load in just 15 seconds, without the driver leaving the cab. On larger bulk carriers manual sheeting can take up to half an hour and drivers have been injured falling off vehicles.
This new system is designed to be fitted to six/eight-wheel tippers as well as open bulk waste trailers. A PVC non sticking sheet sits on a drum that is cased at the front of the body and drawn over the load by a pulley wire system along the length of the trailer. The system has been developed to run hydraulically with an electronic switch that can be positioned anywhere on the wagon.
The firm has spent £250,000 and four years developing the product and enlisted the help of the school of hydraulics at Tampare University of Technology. World wide patents have been taken out on the design.
A frame, built in aluminium or steel, protects the moving parts from possible damage from grabs or the load itself.
Clasps at each end of the trailer force the wire flush with the frame and give a water-proof seal.
The system costs from £4,500 depending on the size. The weight penalty has been calculated as 500kg for aluminium and 800kg for steel, based on a 10m trailer. ProtecMatic says a firm sheeting 10 loads a day by hand would be able to save 2.5 hours in the each day or make more deliveries.
ProtecMatic is due to start manufacturing the device under licence in the UK in April. All systems can be fitted in a day and come with a year's warranty. Spare parts are standard and will be despatched in 24 hours.
Contact Chris Langham on (0279) 870010.