An Inexpensive
5th January 1932
Page 57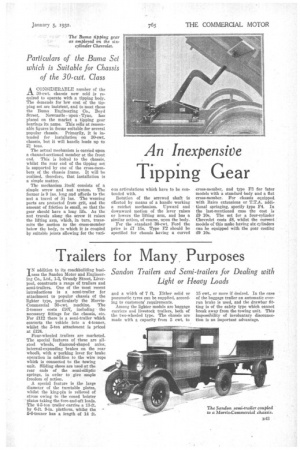 Page 57, 5th January 1932 —
An Inexpensive
Close
Tipping Gear
j6i CONSrDERABLE number of the
30-cwt. chassis now sold is required to operate with a tipping body. The demands for low cost of the tipping set are insistent, and to meet these the Rama Engineering Co., Boyd Street, Newcastle upon Tyne, has placed on the market a tipping gear bearings its name. This sells at reason able figures in for suitable for several popular chassis. Primarily, it is in tended for installation on 30-cwt. chassis, but it will handle loads up to 21 tons.
The actual mechanism is carried upon a channel-sectioned member at the front CIA This is bolted to the chassis, whilst the rear end of the tipping set is supported by one of the cross-members of the chassis frame. It will be realized, therefore, that installation is a simple mutter.
The mechanism itself consists of a simple screw and nut system. The former is 9 ins. long and affords to the nut a travel of 51 ins. The wearing parts are protected from grit, and the amount of friction is small, so that the gear should have a long life. As the nut travels along the screw it raises the lifting arm, which, in turn, transmite the motion to the cross-member below the body, to which it is coupled by suitable joints allowing for the vast
otts articulations which have to he contended with.
Rotation of the screwed shaft is effected by means of a handle working a ratchet meehanisra. Upward and downward motion of the lever raises or lowers the lifting arm, and has a similar action, of course, upon the body.
For the standard 30,cwt. Ford the price is £7 15s. Type 12 should be specified for chassis having a curved cross-member, and type F3 for later models with a standard body and a flat cross-member. For chassis equipped with Bake extensions or T.T.A. additional springing, specify type 14. In tlxn last-mentioned case the cast is £9 10s. The set for a four-cylinder Chevrolet casts ES, whilst the current models of this make having six cylinders can be equipped with the gear costing a 10s.