A New Regional Committee of the S.D.H.A.
5th January 1932
Page 39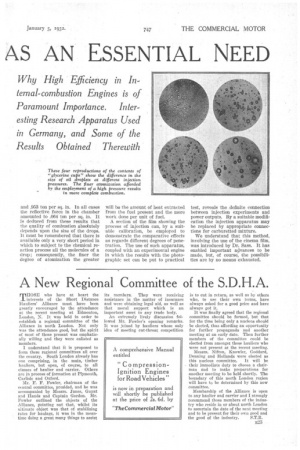 Page 39, 5th January 1932 —
A New Regional Committee of the S.D.H.A.
Close
Keywords :
TEIOSE who have at heart the interests of the Short Distance hauliers' Alliance must have been greatly encouraged by the attendance at the recent meeting at Edmonton, London, N. It was held in order to establish a regional committee of the Alliance in north Loudon. Not only was the attendance good, but the spirit of most of those present was emphatically willing and they were enlisted as members.
I understand that it is proposed to form these regional committees all over the country. South London already has one comprising, in the main, timber hauliers, but open, of course, to all classes of haulier and carrier. Others are in process of formation at Plymouth, Carlisle and Oxford.
Mr. F. F. Fowler, chairman of the central committee, presided, and he was accompanied by Messrs. Janes, Guyat and Hands and Captain Gordon. Mr. Fowler outlined the objects of the Alliance, pointing out that, whilst its ultimate object was that of stabilizing rates for haulage, it was in the meantime doing a great many things to assist its members. They were receiving assistance in the matter of insurance and were obtaining legal aid, as well as that moral support which is an important asset to any trade body.
An extremely lively discussion followed Mr. Fowler's opening remarks. It was joined by hauliers whose only idea of meeting cut-throat competition Is to cut in return, as well as by others who, to use their own terms, have always asked for a good price and have always got it.
It was finally agreed that the regional committee should be formed, but that for the time being only a nucleus should be elected, thus affording an opportunity for further propaganda and another meeting at an early date. Then further members of the committee could be elected from amongst those hauliers who were not present at the recent meeting.
Messrs. Nifton, Knowler, Goddard, Denning and TrIollands were elected as
this nucleus committee. It will be their immediate duty to choose a chairman and to make preparations for another meeting to be held shortly. The boundary of this north London region will have to be determined by this new committee.
Membership of the Alliance is open to any haulier and carrier and I strongly recommend those members of the industry who reside in or about north London to ascertain the date of the next meeting and to be present for their own good and
the good of the industry. S.T.R.