MUNICIPAL PURCHASES AND PROPOSALS
5th January 1932
Page 36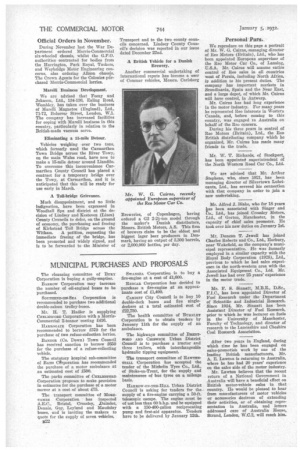 Page 36, 5th January 1932 —
MUNICIPAL PURCHASES AND PROPOSALS
Close
The cleansing committee of Boar Corporation is buying a gully-emptier.
BARROW Corporation may increase the number of oil-engined buses to be purchased.
SOUTHEND-ON-SEA Corporation is recommended to purchase two additional double-saloon trolley-buses.
Mr. H. T. Radler is supplying CHELAtSFORD Corporation with a MorrisCommercial 2-tonner costing 1416.
HARROGATE Corporation has been recommended to borrow 1570 for the purchase of two refuse-collection lorries.
BANGOR (CO. Down) Town Council has received sanction to borrow 1650 for the purchase of a refuse-collecting vehicle.
The statutory hospital !sub-committee of BATH Cgrporation has recommended the purchase of a motor ambulance at an estimated cost of 1500.
The parks committee of CHELMSFORD Corporation proposes to make provision in estimates for the purchase of a motor mower at a cost of about 175.
The transport committee of MORE-CA.M.BE Corporation has inspected A.E.C., Bristol, Crossley, Daimler, Dennis, Guy, Leyland and Maudslay biases, and is inviting the makers to quote for the supply of seven vehicles.
B22 Swsusns Corporation is to buy a fire-engine at a cost of 11,600.
BROCA2, Corporation has decided to purchase a Bre-engine at an approximate cost of 11,400.
CARDIFF City Council is to buy 10 double-deck buses and five singledeckers at a total estimated cost of 122,750.
'The health committee of BURNLEY Corporation is to obtain tenders by January 11th for the supply of an ambulance.
The highways committee of BRENTFORD A.ND Car.swico. Urban District Council is to purchase a tractor and three trailers, with interchangeable hydraulic tipping equipment.
The transport committee Of RAWTENSTALL Corporation has accepted the tender of the Michelin Tyre Co., Ltd., of Stoke-on-Trent, for the supply and maintenance of bus tyres on a mileage basis.
HARROW-ON-THE-HILL Urban District Council is asking for tenders for thesupply of a fire-engine carrying a 50-ft. telescopic escape. The engine must be of not less than 60 b.h.p. and be equipped with a 350-400-gallon reciprocating pump and first-aid apparatus. Tenders have to be delivered by January 12th.