ONE HEARS
5th January 1932
Page 33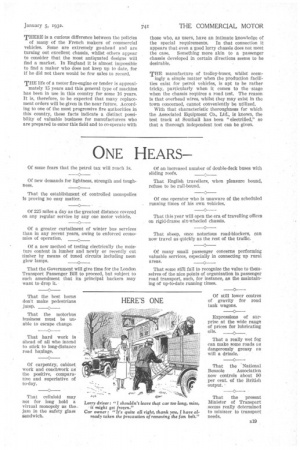 Page 33, 5th January 1932 —
ONE HEARS
Close
Of some fears that the petrol tax will reach is.
Of new demands for lightness, strength and tough ness. 0 That the establishment of controlled monopolies Is proving no easy matter.
Of 225 miles a day as the greatest distance covered on any regular service by any one motor vehicle.
Of a greater curtailment of winter bus services than in any recent years, owing to enforced econo mies of operation.
Of a new method of testing electrically the moisture content in lumber and newly or recently cut timber by means of tuned circuits including neon glow lamps. 0 That the Government will give time for the London Transport Passenger Bin to proceed, but subject to such amendment that its principal backers may want to drop it.
That the best horns don't make pedestrians jump. 0 That the motorbus business must be unable to escape change.
That hard work is ahead of all who intend to stick to long-distance road haulage.
Of carpentry, cabinet work and coachwork as the positive, comparative and superlative of to-day.
That celluloid may not for long hold a virtual monopoly as the— jam in the safety glass sandwich. Of an increased number of double-deck buses with sliding roofs.
That English travellers, when pleasure bound, refuse to be rail-bound.
Of one operator who is unaware of the scheduled running times of his own vehicles.
That this year will open the era of travelling offices on rigid-frame six-wheeled chassis.
That sheep, once notorious road-blockers, can now travel as quickly as the rest of the traffic.
• 0 Of many small passenger concerns performing valuable services, especially in connecting up rural areas. 0 That some still fail to recognize the value to themselves of the nice points of organization in passenger road transport, such, for instance, as the maintaining of up-to-date running times.
Of still lower centres of gravity for road tank wagons.
Expressions of surprise at the wide range of prices for lubricating oils.
That a really wet fog can make some roads as dangerously greasy as will a drizzle. '
That the National Benzole Association now controls about 00 per cent. of the British output.
That the present Minister of Transport seems really determined to minister to transport needs.