FOR POLICE DUTIES IN BRADFORD.
5th January 1926
Page 28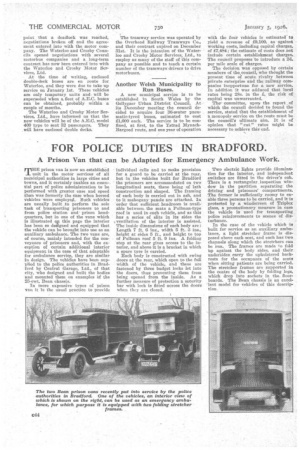 Page 28, 5th January 1926 —
FOR POLICE DUTIES IN BRADFORD.
Close
A Prison Van that can be Adapted for Emergency Ambulance Work.
T"prison van is now an established unit in the motor services of all nninicipal authorities in large cities and towns, and it certainly enables an essential part of police administration to be performed with greater ease and speed than was formerly the case when horsed vehicles were employefl. Such vehicles are usually built to perform the sole task of transporting prisoners to and from police station and prison headquarters, but in one of the vans which Is illustrated oji this page the interior has been so designed and equipped that the vehicle can be brought into use as an auxiliary ambulance. The two vans are, of course, mainly intended for the conveyance of prisoners and, with the exception of certain additional interior equipment in the case of that adaptable for ambulance service, they are similar In design. The vehiales have been supplied to the police authorities in Bradford by Central Garage, Ltd., of that city, who designed and built the bodies and mounted them on examples Of the 25-ewt. Bean chassis.
In more expensive types of prison van it is the usual practice to provide
individual cells and to make provision for a guard to be carried at the rear, but in the vehicles built for Bradford the prisoners are accommodated on two longitudinal seats, these being of lath construction and shaped. The framing of each body is carried out in ash, and to it mahogany panels are attached. In order that sufficient headroom is available between the seats a Pullman-type roof is used in each vehicle, and as this has a series of slits in its sides the ventilation of the interior is assisted. The inside dimensions of each body are : Length 7 ft. 6 ins., width 5 ft.
height at sides 5 ft., and height to top of Pullman roof 5 ft, 9 ins. A folding step at the rear gives access to the interior, and above it is a bracket in which a spare tyre is carried.
Each body is constructed with swing doors at the rear, which open to the full width of the vehicle, and these are fastened by three budget locks let into the doors, thus preventing them from being opened from the inside. As a further measure of protection a security bar with lock is fitted across the doors when they are closed. . Two electric lights provide illumination for the interior, and independent switches are fitted in the driver's cab. There is a rectangular.inspeetian window in the partition separating' the driving and prisoners' compartments. The former is sufficiently roomy to enable three persons to be carried, and it is protected by a windscreen of Triplex glass, a precautionary measure in case the vehicle is used for transporting , police reinforcements to scenes of disturbance,
In the case of the vehicle which is built for service as an auxiliary ambulance, a light stretcher frame is disposed above each seat, and each has two channels along which the stretchers can be .run. The frames are made fo fold hp against the body sides, and their undersides carry the upholstered backrests for the occupants of the seats when sitting patients are being carried. The stretcher frames are supported in the centre of the body by folding legs, which drop into sockets in the floorboards. The Bean chassis is an excellent model for vehicles of this description