Road Transport
5th February 1937
Page 54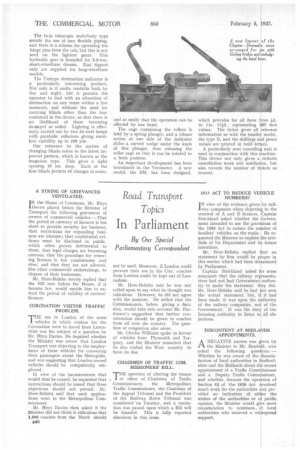 Page 54, 5th February 1937 —
Road Transport
Close
Topics In Parliament
By Our Special Parliamentary Correspondent
A STRING OF GRIEVANCES VENTILATED.
I N the' House of Commons, Mr. Rhys Davies placed before the Minister of Transport the following grievances of owners of commercial vehicles : —That the period of currency of licences is too short to provide security for business; that restrictions for expanding business are irksome; that confidential evidence must be disclosed in public, which often proves detrimental to them; that legal charges are becoming onerous; that the procedure for renewing licences is too cumbersome and slow; and that they are not allowed, like other commercial undertakings, to dispose of their businesses.
Mr. Hore-Belisha merely replied that the Bill now before the House, if it became law, would enable him to extend the period of validity of carriers' licences.
CORONATION VISITOR TRAFFIC PROBLEM.
THE use in London of the same vehicles in which visitors for the Coronation were to travel from Lancashire was the subject of a question by Mr. Rhys Davies. He inquired whether the Minister was aware that London Transport was objecting to the employment of these vehicles for conveying their passengers about the Metropolis, and was suggesting that London-owned vehicles should be compulsorily employed.
In view of the inconvenience that would thus be caused, he requested that instructions should be issued that these objections should not prevail. Mr. 1-lore-Belisha said that such applications went to the Metropolitan Commissioner.
• Mr. Rhys Davies then asked if the Minister did not think it ridiculous that 1,000 coaches from the North should 840
not be used, Moreover, if London could prevent their use in the City, coaches from London could be kept out of Lancashire.
Mr. Hore-Belisha said he was not called upon to say what he thought was ridiculous. However, he did not agree with the member, He added that the Commissioners, before giving a decision, would take into account Mr. Parkinson's suggestion that further consideration should be given to coaches from all over the country. The question of congestion also arose.
Mr. Charles Williams spoke in favour of vehicles from Plymouth and Torquay, and the Minister remarked that he also wished the West country to have its due.
CHAIRMEN OF TRAFFIC COMMISSIONERS' BILL.
HE question of altering the tenure
, of office of Chairmen of Traffic Commissioners, the Metropolitan Traffic Commissioner, the Chairman of the Appeal Tribunal and the President of the Railway Rates Tribunal was considered on Tuesday, and a resolution was passed upon which a Bill will be founded. This is fully reported elsewhere in this issue.