What the Associations
5th February 1937
Page 42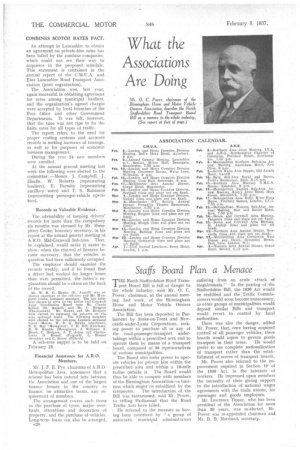 Page 42, 5th February 1937 —
What the Associations
Close
Are Doing
COMBINES SCOTCH RATES PACT.
An attempt in Lancashire to obtain an agreement on private-hire rates has been foileli by the combine companies, which could not see their way to acquiesce in the proposed schedule. This statement is contained in the annual report of the C.M.U.A. and East Lancashire Road Transport Association (joint organization).
The Association was, last year, again successful in obtaining agreement for rates among municipal hauliers, and the organization's agreed charges were accepted by local branches of the Post Office and other Government Departments. It was felt, however, that the time was not ripe to fix definite rates for all types of traffic.
The report refers to the need for proper costing systems and• accurate records in seeking increases of tonnage, as well as for purposes of economic business management.
During the year 24 new members were enrolled.
At ,the annual -general meeting last week the following were elected to the cornmittee:-Messrs. J. Campbell, J. Hindle, W. Roberts (representing hauliers), , E. -• Barmby (repreSenting ancillary users) arid T. S. Robinson (rejiresenting passenger-vehicle operators).
Reeords as Valuable Evidence.
The advisability of keeping, drivers'. records for more than the ecoMpuLsory
• six month§ was stressed by Mr. • Humphrey Cooke, honorary secretary, in his report at the arinnal general Meeting of A.R.O. Mid-Cornwall. Sub-area. That, he explained, ,would make it easier to show, when the r6neival of licerieeS became necessary, that the vehicles in question had been sufficiently. occupied. The employer should eXamine the records' weekly, and if he found that a driver had worked for longer • hours
• than were permitted, -the latter's explanation should be written on the back of the record.
• Mr. W. R. G. Hawke (St. Austell) was reelected chairman of the sub-area and Mr. Hum '
phrey Cooke honorary secretary. The two members.chosen to serve on the Devon and Cornwall Joint Conciliation Board were Mr. Claude Selleck (St. Austell) r and Mr. C. Hodgson (Charlestown). Mr. Hawke and Mr. Hodgson were elected to represent the sub-area on the area sectional board.. The following members were elected to the sub-area hauliers sectional board :-Messrs. W. R. Q. Hawke /chairman), 1'.1. F.. May (Mevagissey): J. H. Dill /Ceram), R. W. Kemble IMevagisseyl, J. Williams, S. Broad, C. Hodgson, J. T. Johns (all Charlestown). D. Rowett (Polgooth), L. Hooper (Seredda) and C. Storey (Polkyth).
• A sub-area supper is to be held on February 25.
Financial Assistance for A.R.O.
Members.
Mr. J. F. E. Pye, chairman of A.R.O. Metropolitan Area, announces that a scheme has been entered into between the Association and one of the largest finance houses in the country to finance, on attractive terms, any requirement of members.
The arrangement covers such items as the purchase of tyres, major overhauls, alterations and decoration of property, and the purchase of vehicles. Long-term loans can also he arranged.
n2S