Staffs Board Plan a Menace
5th February 1937
Page 42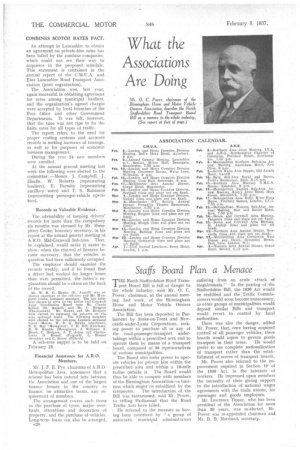 Page 42, 5th February 1937 —
Staffs Board Plan a Menace
Close
THE North Staffordshire Road Trans1 port Board Bill is full-of danger to the whole industry, said Mr, 0. C. Power, chairman, at the annual meeting, last week, of the Birmingham Horse and Motor Vehicle Owners Association.
The Bill has been deposited in Parliament by Stoke-on-Trent and Newcastle-under-Lyme Corporations, seeking power to purchase all or any of the road-passenger-transport undertakings within a prescribed area and to operate them by means of a transport board, composed of 39 representatives of various municipalities.
The Board also seeks power to operate vehicles for private hire within the prescribed area and within a 10-mile radius outside it. The Board would thus be able to compete with members of the Birmingham Association-a business which might be subsidized by the ratepayers. The introduction of the Bill was tantamount, said Mr. Power, to telling Parliament that the Road Traffic Acts have failed.
He referred to the measure as having been conceived by " a group of autocratic municipal administrators
suffering from an acute attack of megalomania." In the passing of the Staffordshire Bill, the 1930 Act would be stultified and the Traffic Commissioners would soon become unnecessary. as other groups of municipalities would deposit similar Bills and transport would revert to control bY local authorities.
There was also the danger, added Mr. Power, that, once having acquired control of all passenger vehicles, these boards would aspire to govern goods transport in their areas. He would prefer to see complete nationalization of transport rather than the establishment of scores of transport boards.
Mr. Power also referred to the improvement required in Section 19 of the 1930 Act, in the interests of workers. He impressed upon members the necessity of their giving support to the introduction of national wages agreements with the trade unions, for passenger and goods employees.
Mr. Lawrence Tipper, who has been president of the Association for more than 30 years, was re-elected, Mr. Power was re-appointed chairman and Mr. B. B. Marsland, secretary.