Lightweight-body Construction
5th February 1937
Page 37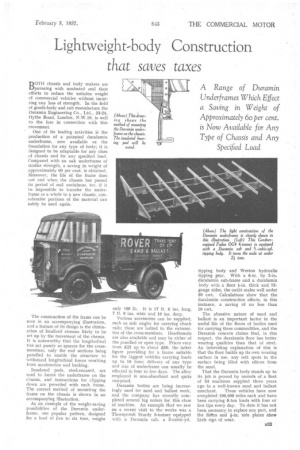 Page 37, 5th February 1937 —
Lightweight-body Construction
Close
that saves taxes A Range of Duramin Underframes Which Effect a Saving in Weight of Approximately 6o per cent. is Now Available for Any Type of Chassis and Any
Specified Load
BOTH chassis and body makers are L./pursuing with unabated zeal their efforts to reduce the unladen weight of commercial vehicles .without incurring any loss of strength. In the field of goods-body and cab manufacture the Duramin Engineering Co., Ltd., 23-24, Hythe Road, London, N.W,10, is well to the fore in connection with this movement.
One of its leading activities ix the production of a patented duralumin underframe, now available as the foundation for any type of body; it is designed to be adaptable for any class of chassis and for any specified load. Compared with an oak underframe of similar strength, a saving in weight of .approximately 60 per cent. is obtained. Moreover, the life of the frame does not end when the chassis has passed its period of real usefulness, for, if it be impossible to transfer the underframe as a whole to a new chassis, considerable portions of the material can safely be used again.
The construction of the frame can be seen in an accompanying illustration, and a feature of its design is the elimination of localized stresses likely to be set up by the movement of the chassis. It is noteworthy that the longitudinal ties act purely as spacers for the crossmembers, only the end sections being panelled to enable the structure to withstand longitudinal forces resulting from acceleration and braking.
Insulated pads, steel-encased, are used to locate the underframe on the chassis, and instructions for clipping clown are provided with each frame. The correct method of mounting the frame on the chassis is shown in an accompanying illustration.
As an example of the weight-saving possibilities of the Duramin underframe, one popular pattern, designed for a load of five to six tons, weighs only 168 lb. It is 17 ft. 6 ins, long, 7 ft. 6 ins, wide and 10 ins. deep. Various accessories can be supplied, such as side angles for carrying chock rails; these are bolted to the extremities of the cross-members. Headboards are also available and may be either of the panelled or open type. Prices vary from £25 up to about £50, the latter figure providing for a frame suitable for the biggest vehicles carrying loads up to 16 tons; delivery of any type and size of underframe can usually be effected in four to five days. The alloy employed is non-absorbent and quite rustproof.
Duramin bodies are being increasingly used for sand and ballast work, and the company has recently completed several big orders for this class of machine. An example that we saw on a recent visit to the works was a Thornycroft Sturdy 5-tonner equipped with a Duramin cab, a 5-cubic-yd. tipping body and Weston hydraulic tipping gear. With a 6-in. by 2-in. duralumin sub-frame and a: duralumin
body with a floor thick and 12gauge sides, the outfit scales well under 50 cwt. Calculations show that the duralumin construction effects, in this instance, a saving of no less than 10 cwt.
The abrasive nature of sand and ballast is an important factor in the useful life of the floors of bodies used for carrying these commodities, and the Duramin concern claims that, in this respect, the duralumin floor has better wearing qualities than that of steel. An interesting explanation of this is that the floor builds up its own wearing surface in use, any soft spots in the surface being filled with silicon from the sand.
That the Duramin body stands up to its job is proved by records of a fleet of 24 machines supplied three years ago to a well-known sand and ballast merchant. These vehicles have now completed 100,000 miles each and have been carrying 8-ton loads with four or five tips every day. To date it has not been necessary to replace any part, and the 11615rs and fin, 'side plates show little sign of wear.