Jointing Case Heard a Second Time
5th February 1937
Page 35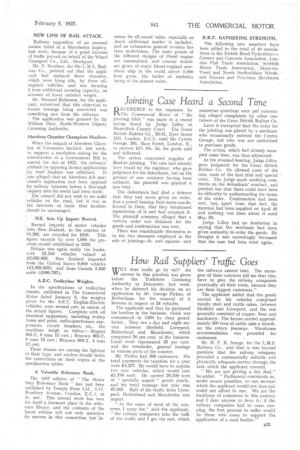 Page 35, 5th February 1937 —
Jointing Case Heard a Second Time
Close
REFERENCE to the exposure by The Commercial Motor of " the jointing trick " was made in a recent action heard by Judge Lilley at Shoreditch County Court. The Great British Rubber Co., 26-31, Eyre Street Hill, London, E.C.1, sued the Cyntra Garage, 201, Mare Street, London, E., to recover £11 10s. 3d. for goods sold and delivered.
The action concerned supplies of Mastite jointing. The case had already been heard by the registrar, who gave judgment for the defendants, but on the ground of new evidence having been adduced, the plaintiff was granted a new trial..
The defendants had filed a defence that they' had never given an order, that a parcel bearing their name was delivered to them, that they telephoned repudiation of it and had retUrned it. 'The plaintiff company alleged that a written order was obtained for the goods and eonfirrnation was sent.
There was. considerable discussion as to the two measures employed in the sale of jointing—lb. and squares—and numerous questions were put concerning alleged complaints by other customers of the Great British Rubber Co.
Later it transpired that the order for the jointing was placed by a mechanic who occasionally assisted the Cyntra Garage, but who was not authorized to purchase goods.
The action, which had already occupied some time, was then adjourned.
At the resumed hearing, Judge Lilley gave judgment for the Great British Rubber Co. He allowed costs of the case, costs of the first trial and special costs. The Judge made scathing comments on the defendants' conduct, and pointed out that there could have been no difficulty in understanding the terms of the order. Confirmation had been sent, but, apart from that fact, the material had been supplied on April 30 and nothing was done about it until May 20.
Judge Lilley had no hesitation in saying that the mechanic had been given authority to order the goods. He thought it was exceedingly fortunate that the case had been tried again.