GUY CAPITAL INCREASE.
5th February 1937
Page 34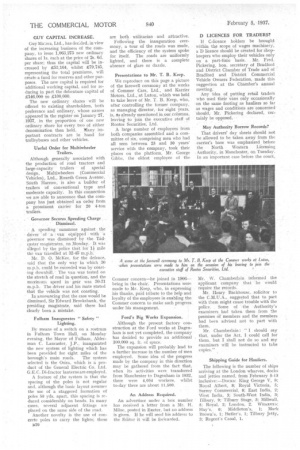 Page 34, 5th February 1937 —
GUY CAPITAL INCREASE.
Close
Guy Motors, Ltd., has deckled, in view of the increasing business of the company, to issue 1,063,275 new ordinary shares of Is. each at the price of 2s. 6d. per share; thus the capital will be increased by £53,164, whilst £79,745, representing the total premiums, will create a fund for reserves and other purposes. The new capital is required for additional working capital, and for reducing in part the debenture capital of £146,000 to £100,000.
The new ordinary shares will be offered to existing shareholders, both preference and ordinary, whose names appeared in the register on January 27, 1937, in the proportion of one new ordinary share for every two of either denomination then held. Many important contracts are in hand for trolleybuses and other vehicles.
Useful Order for Multiwheeler Trailers.
Although generally associated with the production of road tractors and large-capacity trailers of special design, Multiwheelers (Commercial Vehicles), Ltd., Roxeth Green Avenue, Sciuth 'Harrow, is also a builder of trailers of conventional type and moderate capacity. In this connection we are able to announce that the company has just obtained an order from a prominent carrier for 20 4-ton trailer's.
. • Governor Secures. Speeding Charge Dismissal.
A speeding summons against the driver 'of a van equipped with 'a governor was dismissed' by the Tadcaster magistrates, on Monday. It was alleged by the police that for 11 mile the van travelled at 32-45' rnai.h.
Mr. D. 0. McKee, for the defence. said that the only way in which .20 m.p.h. could be exceeded was by coasting downhill, The van was tested on the stretch of road in question, and the maximum speed in • gear was 30-31 m.p.h. The driver and his mate stated that the vehicle was not coasting.
In announcing that the case would be dismissed, Sir Edward Brooksbank, the presiding magistrate, said there had clearly been .a mistake.
Fulham Inaugurates " Safety " Lighting.
By means of a switch on a rostrum in Fulham Town Hall, on Monday evening, the Mayor of Fulham, Alderman C. Lancaster, J.P., inaugurated the new system of lighting which has been provided for eight miles of the borough's main roads. The system selected is the Osira, which is a product of the General Electric Co. Ltd.
Di-fractor lanterns are employed.
A feature of the system is that the spacing of the poles is not regular and, although the basic layout assumes the use of a staggered formation of poles 50 yds. apart, this spacing is reduced considerably on bends. In many cases, several adjacent fittings are placed on the same side of the road.
Another novelty is the use of concrete poles to carry the lights; these 820 are both utilitarian and attractive.
Following the inauguration ceremony, a tour of the roads was made, and the efficiency of the system spoke for itself. The roads are uniformly lighted, and there is a complete absence of glare or dazzle.
Presentations to Mr. T. B. Keep.
We reproduce on this page a picture of the farewell ceremony at the works of Commer Cars, Ltd., and Karrier Motors, Ltd., at Luton, which was held to take leave of Mr. T. B. Keep, who, after controlling the former company, as managing director, for eight years, is, Ss already mentioned in our. columns, leaving to join the executive staff of Rootes Securities, Ltd. •
A large number of employees from both companies assembled and a committee of six, comprising men who had all seen between 25 and 30 years' service with the company, took their places oil the platform, Mr. George Gibbs. the oldest employee of the Commer concern—he joined in 10041— being in the chair. Presentations were made to Mr. Keep, who, in expressing his thanks, paid tribute to the help and loyalty of the employees in enabling the Commer concern to make such progress under his management.
Ford's Big Works Expansion.
Although the present factory construction at the Ford works at Dagenham is not yet completed, the company has decided to provide an additional 100,000 sq. ft. of space.
The expansion will probably lead to a further increase in the number of men employed. Some idea of the progress made by the company in this direction may be gathered from the fact that, when its activities were transferred from Manchester to Dagenham in 1932, there were 4,054 workers, whilst to-day there are about 11,500.
An Address Required.
An advertiser under a box number has received a letter from a Mr. H. Milne, posted in Exeter, but no address is given. If he will send his address to the Editor it will be forWarded. D LICENCES FOR TRADERS?
If C-licence holders be brought within the scope of wages machinery, a D licence should be created for shopkeepers who employ their vehicles only on a part-time basis. Mr. Fred. Pickering, hon. secretary of Bradford and District Chamber of Trade and of Bradford and District Commercial Vehicle Owners Federation, made this suggestion at the Chamber's annual meeting.
Any idea of putting retail traders who used their vans only occasionally on the same footing as hauliers so far as wages and conditions are concerned should, Mr. Pickering declared, certainly be opposed.
May Authority Borrow Records?
That drivers' day sheets should not be allowed to be taken away from the carrier's base was emphasized . before the North Western Licensing Authority, in Manchester, on Tuesday. In an important case before the court.
Mr. W. Chamberlain informed the applicant company that he would require the records.
Mr. Henry Backhouse, solicitor to the C.M.U.A., suggested that to part with them might cause trouble with the police. Some of the Authority's examiners had taken them from the premises Of members and the members had been advised not to part with them.
Mr. Chamberlain : "I should say that, under the Act, T could call for them, but I shall not do so and my examiners will be instructed to take copies."
Shipping Guide for Hauliers.
The following is the number of ships arriving at the London wharves, docks and jetties named, from February 5-13 inclusive:—Doracs: King George V. 9; Royal Albert, 8; Royal Victoria, 5; Surrey Commercial, 8; East India, 2; West India, 3; South-West India, 3; rilbury, 9; Tilbury Stage, 3; Millwall, 5; Royal, 2; London, 2. WHARVES: Hay's, 6; Middleton's, 1; Mark Brown's, 1; Butler's, 1; Tilbury jetty, 3; Regent's Canal, 1.
Tags
People
:
T. B. Keep
,
Pickering
,
George Gibbs
,
Royal Victoria
,
Henry Backhouse
,
Millwall
,
Royal Albert
,
W. Chamberlain
,
Fred
,
George V
,
Tilbury Stage
,
Mark Brown
,
Edward Brooksbank