One Hears
5th February 1937
Page 31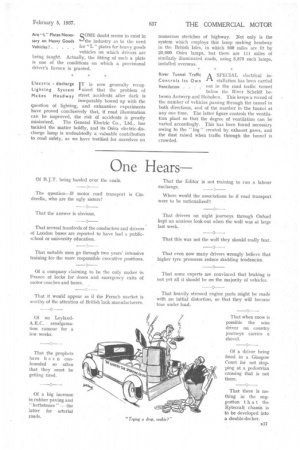 Page 31, 5th February 1937 —
One Hears
Close
Of B.J.T. being hauled over the coals.
The question—If motor road transport is Cinderella, who are the ugly sisters?
That the answer is obvious.
That several hundreds of the conductors and drivers of London buses are reported to have had a publicschool or university education.
That suitable men go through two years' intensive training for the more responsible executive positions.
Of a company claiming to be the only maker in France of locks for doors and emergency exits of motor coaches and buses.
That it would appear as if the French market is worthy of the attention of British lock manufacturers.
Of no LeylandA.E.C. amalgamation rumour for a few •weeks.
That the prophets have been confounded so often that they must be getting tired.
Of a big increase in rubber paving and " kerbstones" — the latter for arterial roads. That the Editor is not training to run a labour exchange.
Where would the associations be if road transport were to be nationalized?
That drivers on night journeys through Oxford kept an anxious look-out when the wolf wa,s at large last week.
That this was not the wolf they should really fear.
That even now many drivers wrongly believe that higher tyre pressures reduce skidding tendencies.
That some experts are convinced that braking is not yet all it should be on the majority of vehicles.
That heavily stressed engine parts might be made with an initial distortion, so that they will become true under load.
That when snow is possible the wise driver on country journeys carries a shovel.
Of a driver being fined in a Glasgow Court for not stopping at a pedestrian crossing that is not there.
That there is nothing in the suggestion that the Rytecraft chassis is to be developed into a double-decker.