Licence not granted
5th December 1981
Page 7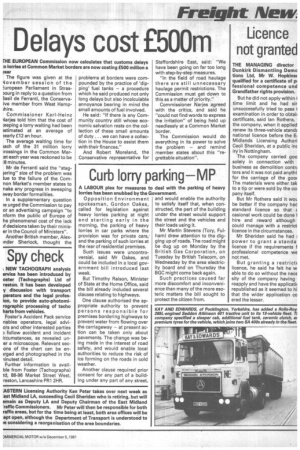 Page 7, 5th December 1981 —
Licence not granted
Close
THE MANAGING director Dunkirk Dismantling Demo tions Ltd, Mr W. Hopkinsc qualified for a certificate of pi fessional competence und Grandfather rights provision.
But he did not apply within 1 time limit and he had sir unsuccessfully tried to pass 1 examination in order to obtaii certificate, said Ian Rothera, • the company, when it applied renew its three-vehicle stande national licence before the E Midlands Licensing Authori Cecil Sheridan, at a public inc iry in Nottingham.
The company carried goo solely in connection with business as demolition contri tors and it was not paid anythi for the carriage of the goo( The materials were either tak to a tip or were sold by the col pany itself, But Mr Rothera said it woi be better if the company had standard licence so that c casional work could be done 1 hire and reward although could manage with a restrict licence in the circumstances.
Mr Sheridan said he had power to grant a standa licence if the requirements f professional competence we not met.
But granting a restrict( licence, he said he felt he w able to do so without the necE sity of the company having reapply and have the applicatii republished as it seemed to hi that the wider application co ered the lesser.