Delays cost £500m
5th December 1981
Page 7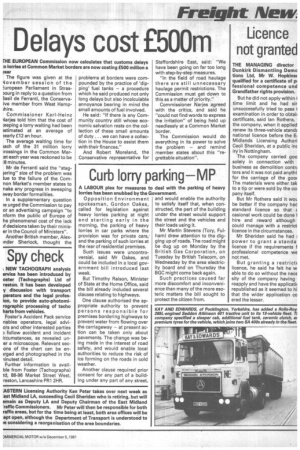 Page 7, 5th December 1981 —
Delays cost £500m
Close
HE EUROPEAN Commission now calculates that customs delays o lorries at Common Market borders are now costing E500 million a fear The figure was given at the ■ lovember session of the 'European Parliament in Stras)ourg in reply to a question from aasil de Ferranti, the Conserve'lye member from West Hamp;hire.
Commissioner Karl-Heinz garjes told him that the cost of ceeping a lorry waiting had been )stimated at an average of tearly £12 an hour.
The average waiting time for !ach of the 31 million lorry :rossings in the Common Maret each year was reckoned to be 18 minutes.
Mr de Ferranti said the "stagparing" size of the problem was lue to the failure of the Cornnon Market's member states to rake any progress in sweeping sway border formalities.
In a supplementary question le urged the Commission to pay or an advertising campaign "to nform the public of Europe of he phenomenal cost of the lack )f decisions taken by their miniser in the Council of Ministers".
Another British member, Alexinder Sherlock, thought the problems at borders were compounded by the practice of 'dipping' fuel tanks — a procedure which he said produced not only long delays but also incalculable annoyance bearing in mind the small amounts of fuel involved.
He said: "If there is any Community country still whose economic salvation rests on the collection of these small amounts of duty ... we can have a collection in the House to assist them with their finances."
And Robert Moreland, the Conservative representative for Staffordshire East, said: "We have been going on far too long with step-by-step measures.
"In the field of road haulage there are still unnecessary haulage permit restrictions. The Commission must get down to this as a matter of priority."
Commissioner Narjes agreed with the critics, and said he "could not find words to express the irritation" of being held up needlessly at a Common Market border.
The Commission would do everything in its power to solve the problem — and remind member states about this "regrettable situation".