Curb lorry parking—MP
5th December 1981
Page 7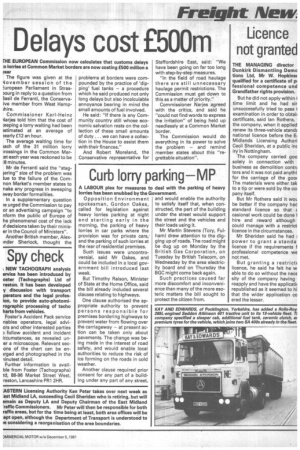 Page 7, 5th December 1981 —
Curb lorry parking—MP
Close
A LABOUR plea for measures to lorries has been snubbed by the Go Opposition Environment spokesman, Gordon Oakes, called for legislation against heavy lorries parking at night and starting early in the morning, the parking of heavy lorries in car parks where the provision was for private cars,' and the parking of such lorries at the rear of residential premises.
Such issues were uncontroversial, said Mr Oakes, and could be included in a local government bill introduced last week.
But Timothy Raison, Minister of State at the Home Office, said the bill already included several clauses relating to highways.
One clause authorised the appropriate authority to prevent persons responsible for premises bordering highways to prevent water from flowing over the carriageway — at present action can be taken only about pavements. The change was being made in the interest of road safety, and would enable local authorities to reduce the risk of ice forming on the roads in cold weather.
Another clause required prior consent for any part of a building under any part of any street, deal with the parking of heavy vernment.
and would enable the authority to satisfy itself that, when constructed, the part of the building under the street would support the street and the vehicles and their loads using it.
Mr Martin Stevens (Tory, Fulham) drew attention to the digging up of roads. The road might be dug up on Monday by the British Gas Corporation, on Tuesday by British Telecom, on Wednesday by the area electricity board and on Thursday the BGC might come back again.
Such practices caused far more discomfort and inconvenience than many of the more esoteric matters the bill sought to protect the citizen from.