Self-contained cleaner
5th December 1981
Page 46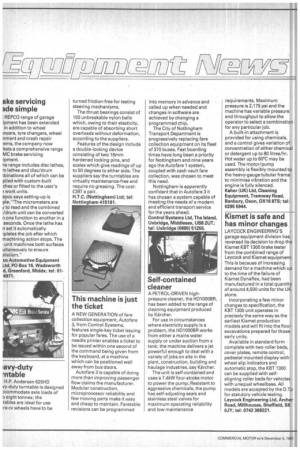 Page 46, 5th December 1981 —
Self-contained cleaner
Close
A PETROL-DRIVEN highpressure cleaner, the HD1000BR, has been added to the range of cleaning equipment produced by Karcher.
For use in circumstances where electricity supply is a problem, the HD1000BR works from either a mains water supply or under suction from a tank; the machine delivers a jet powerful enough to deal with a variety of jobs on site in the plant, construction, building and haulage industries, say Karcher.
The unit is self-contained and uses a 7.4kW four-stroke motor to power the pump. Resistant to aggressive chemicals, the pump has self-adjusting seals and stainless steel valves for maximum operating reliability and low maintenance requirements. Maximum pressure is 2,175 psi and the machine has variable pressure and throughput to allow the operator to select a combination for any particular job.
A built-in attachment is provided for using chemicals, and a control gives variation of concentration of either chemical or detergent up to 80 litres/hr. Hot water up to 60°C may be used. The motor/pump assembly is flexibly mounted to the heavy-gauge tubular frame to minimise vibration and the engine is fully silenced.
Keller (UK) Ltd, Cleaning Equipment, Tramway Road, Banbury, Oxon, 0X16 8TS; tel: 0295 5944.