Tankers on brink
5th December 1981
Page 4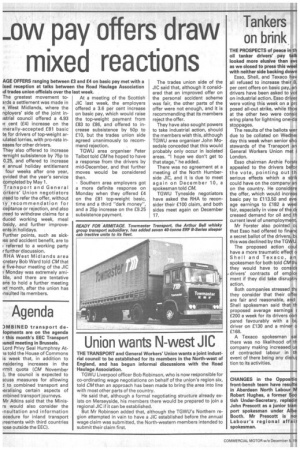 Page 4, 5th December 1981 —
Tankers on brink
Close
THE PROSPECTS of peace in th oil tanker drivers' pay talk looked more elusive than eve as we closed to press this weel with neither side backing down Esso, Shell, and Texaco hay all refused to increase their 8. per cent offers on basic pay, an drivers have been asked to vot on industrial action. Esso driver were voting this week on a prc posed all-out strike, while thos at the other two were consi( ering plans for lightning one-da stoppages.
The results of the ballots wer due to be collated on Wedner day this week when senior sho stewards of the Transport an General Workers Union met i London.
Esso chairman Archie Forste appealed to the drivers befor the vote, pointing out th serious effects which a strik could have on the company an on the country. He considere the offer, which would increas basic pay to £113.50 and ave age earnings to £182 a weel fair, especially in view of the dr creased demand for oil and th current level of unemployment.
Mr Forster also pointed ot that Esso had offered to financ a secret ballot of the drivers, bi this was declined by the TGWU The proposed action coul have a more traumatic effect o Shell and Texaco, an spokesmen for both told CMthi they would have to consid( drivers' contracts of emplce rnent if they did take disruptiv action.
Both companies stressed the they consider that their offer are fair and reasonable, and Shell spokesman said that th proposed average earnings ( £200 a week for its drivers con pared favourably with a bu driver on £130 and a miner o £168.
A Texaco spokesman sal there was no likelihood of th company making increased us of contracted labour in th event of there being any disruj tion to its activities.