ow pay offers draw mixed reactions
5th December 1981
Page 4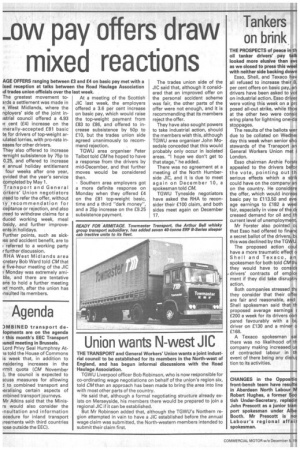 Page 4, 5th December 1981 —
ow pay offers draw mixed reactions
Close
They also offered to increase ,ernight subsistence by 75p to 0.25, and offered to increase e annual holiday entitlement four weeks after one year, ovided that the year's service completed by May 1.
Transport and General orkers' Union negotiators 'reed to refer the offer, without ly recommendation for ceptance or rejection, and also 'reed to withdraw claims for a duced working week, meal lbsidy, and further improveents in holidays.
Further points, such as sick)ss and accident benefit, are to r referred to a working party r further discussion.
RE-IA West Midlands area cretary Bob Ward told CM that e five-hour meeting of the JIC
Monday was extremely amible, and there are tentative ans to hold a further meeting ixt month, after the union has rnsulted its members.
last week.
At a meeting of the Scottish JIC last week, the employers offered a 3.6 per cent increase on basic pay, which would raise the top-weight payment from £83 to £86, and offered to increase subsistence by 50p to £10, but the trades union side agreed unanimously to recommend rejection.
TGWU area organiser Peter Talbot told CM he hoped to have a response from the drivers by mid-December, and that further moves would be considered then.
Southern area employers got a more definite response on Monday when they offered £4 on the £81 top-weight basic, time and a third "dark money", and a 25p increase on the £9.25 subsistence payment. The trades union side of the JIC said that, although it considered that an improved offer on the personal accident scheme was fair, the other parts of the offer were not enough, and it is recommending that its members reject the offer.
They have also sought powers to take industrial action, should the members wish this, although TGWU area organiser John IVIosedale conceded that this would probably only occur in isolated areas. "I hope we don't get to that stage," he added.
There was no agreement at a meeting of the North Humberside JIC, and it is due to meet again on December 10, a spokesman told CM.
TGWU Tyneside negotiators have asked the RHA to reconsider their £100 claim, and both sides meet again on December 17.